The current disruptions to global shipping have impacted some product ranges, we will do everything we can to maintain quoted delivery times but there may be some delays. Read More..
Super Shallow Recessed LED Ground Light
Only 40mm Depth - White or Blue LEDs
Product Ref: 3459
£43.15

inc VAT
Ideal for both domestic, and commercial use. As this is extremely low profile its very versatile. Contemporary but stylish design, constructed from aluminium with a stainless steel bezel and polycarbonate sleeve (for use in concrete). Perfect for decking areas, walkways and drive ways. (When driving at 5mph the weight limit is 800kg.)
IP65 rated - Giving you dust tight and water protection. Water projected from a nozzle.
Supplied with 1 x 1.7w LED lamp. White (60 lumens) or blue (10 lumens). Please note: This lamp can not be dimmed.
Dimensions
Bezel - 108mm x Body: 96mm.
Cut out: 90mm.
Sleeve - 96mm x Sleeve: 51mm.
Cut out: 97mm.
240v - Does not require an LED driver.
| | |
| --- | --- |
| Number Of Lamps | 1 |
| Lamp Type | Long Life LED light source |
| Part L Compliant Luminaire | No |
| Lamps Included | Yes |
| Max Wattage | 1.7w |
| Wiring Details | Class 1 - Requires an Earth Connection |
| IP Rating | IP65 |
| Driver | Includes integral driver/transformer suitable for 230 - 240v supply |
| PDF Document(s) | Datasheet |
Can you confirm diameter of the super shallow recessed led ground light?
The total diameter is 110mm.
Is this light dimmable?
No - this light is non-dimmable.
What is the colour temperature of the white coloured light?
The white LED option has a colour temperature of 4000k.
Can you tell me what the max that can be connected together at the moment I have 29 led deck lights with 3 separate transformers and they just fail so often its unreal, so I had hoped I could have 29 of these daisey chained from the mains so would be a lot easier to sort if one blows.
Daisy chain wiring is an often misunderstood phrase that should only be used to describe items wired in series. Often like a set of old Christmas tree lights if one lamp fails all the lamps stop working. These fixtures use a mains supply and like all mains lighting they should be wired in parallel. You could operate hundreds of thesecLED fixtures on a single 5 amp lighting circuit. Furthermore when wired in parallel if one fails all other lights will continue to work.
Is the LED bulb replaceable?
This is a non replaceable LED. Please not the LEDs are expected to last 30,000 hours and the fittings have a 2 year warranty.
Can 9 of these fittings be used controlled on one switch?
Yes your electrician should be able to wire these up to connect them all via one switch.
Are these lights suitable to be installed in a brick path where the bricks are porous to rainwater?
These are IP65 rated and would be fine to use in a outdoor path.
Would these lights be suitable for installing in a concrete ramp pathway we are about to get built and if not can you advise me what would be suitable.
Yes, these can be installed in a concrete ramp pathway.
do i need a driver to run these lights and how many can i have per driver?
These fittings run at 240v - so do not require an LED driver.
Availability: Typically dispatched in 2-4 days

We offer free delivery on orders over £50 to most UK Mainland Addresses
Related Products
3 Products
£95.04
Round Flat Design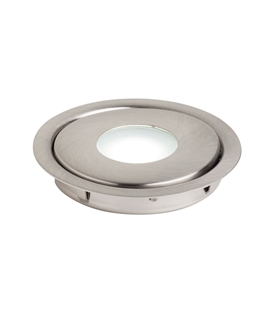 3 Products
£14.99
Super Slim - Niche & Discreet