Professional MR16 EcoPlus IRC Lamps - 14, 20 & 35 watts
Up to 40% More Efficient Than Standard Tungsten
Product Ref: 4907
From £1.90

inc VAT
MR16 IRC EcoPlus Lamps - 14, 20 & 35 watts.
Lamps with IRC coating technology generate more light from less electrical energy. The heat in IRC lamps is directed back at the filament by the infra-red bulb coating. Simply put The heat reflecting coating on the inner lamp burner reflects waste heat back to the filament so less energy is needed to operate the lamp. This gives an energy saving of 40% compared with a standard dichroic lamp.
Because of the energy saving made the wattages are different from those in standard halogen lamps. The difference varies with beam angles but for comparison the following provides a useful guide:
14w IRC Ecoplus = 20w standard dichroic
20w IRC Ecoplus = 35w standard dichroic
35w IRC Ecoplus = 50w standard dichroic
10º - a very narrow spot
24º - a narrow spot
36º - a medium beam angle
60º - a very wide flood.
Who are Radium? For more than 100 years the German company Radium Lampenwerk GmbH have produced high quality lamps for commercial and domestic use. They are committed to protecting the environment both at their production facilities and through promotion of energy efficient lighting.
5000 Hours lamp life - over double the life of a standard dichroic.
Lowest UV output for a dichroic lamp reduces fading risks to absolute minimum.
Savings in energy costs of upto 40% compared to standard dichroics.
Lamp Type
MR16 - 12v Halogen Reflector
Dimmable?
Yes - on standard dimmer
(TRIAC or leading edge)
Width
51mm
Height
50mm
Wiring Details
Class 3 - Requires a low voltage supply
I am having a problem finding a radium bulb replacement 25mm dia halogen, pin connectors, 20 watt - looks v similar to the MR16 IRC - any ideas? can only seem to find one with 35mm dia.
What you seek is a MR8 lamp. We don`t stock this lamp but they are available go Google "MR8 12v"
Availability: IN STOCK immediate dispatch

We offer free delivery on orders over £50 to most UK Mainland Addresses
Related Products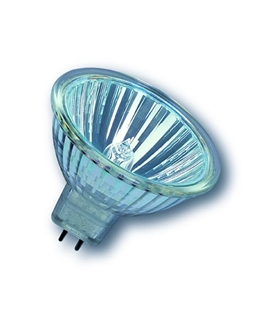 3 Products
£2.11
Dichroic and PAR Reflector Lamps with GU5.3 Base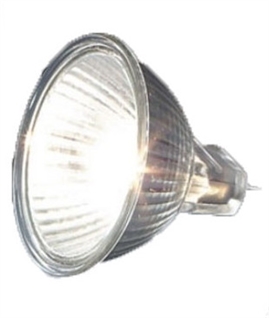 2 Products
£2.11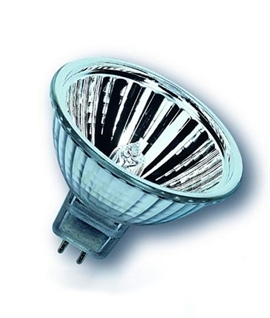 4 Products
£3.80
A 50w Lamp which Provides 40% More Light