Slow freight at UK ports is impacting some orders, we will do everything we can to maintain quoted delivery times but there may be some delays. Read More..
LV Tension Wire Tensioner/Holder (2 Pack) - 3 Finishes
Used to Hold and Tighten the System
Product Ref: 1756
From £28.51

inc VAT
A two-piece pack of holders/tensioners for low voltage tension wire systems.
Affixed to your ceiling or wall your wire is clamped into these holders which can then be adjusted to increase tension in the wires and prevent sagging.
Polished chrome, black or white finish.
Please note a small Allen key is required for installation.
| | |
| --- | --- |
| Lamp Type | |
| Part L Compliant Luminaire | No |
| Width | 50mm |
| Height | 100mm |
| Construction | Steel with Chrome Finish |
| Wiring Details | Not applicable |
I'd like to install wire track lighting across the wide of my uPVC conservatory. The attachments for each end of the wire would be the uPVC frame as opposed to a solid wall or ceiling. Is this possible?
This is possible. For installation into a conservatory, you would require Product Ref: 3417 instead of this tensioners.
for a two spotlight on wire track - what else would I need for affixing to a wall
2 packs of these are required to fix a tension wire system to a wall. If you need help with everything else you would need please give us a call and we can help.
I have a wire system installed but one of the hold points is broken. The type installed is both the tension mount and the electrical feed in point. Do you have any available of this type? If not is it advisable to replace both tension mounts and buy the electrical feed in adaptors from your site?
We don`t stock the tensioner/feed-in system. So yes your best option would be to replace the tension mounts at one end and use the `LV Tension Wire Feed-In`
What distance do you recommend between a wire tensioner and a wire ceiling rod/ceiling deflector?
Around 10 to 12 inches is right for a ceiling installation.
Could you please tell me if i would need to have any additional cable supports if i had a 7 metre run of 6mm tension cable with 6 pendent lights (50 watt lamps) with just a wall mounted wire tensioner at each end and? The lights would be fitted in a conservatory.
If the design above were to be installed by two big chaps you could set this up without any intermediate supports. You`d fix the wire at one end with the tensioner at it`s longest setting, then pull the wire as taught as possible, position and tighten the clamp on the opposing tensioner and screw both ends up till the wire is taught. I say two big chaps as there is a little stretch in the wire so you`ll need to get it at tight as possible before using the tensioners (each tensioner will adjust 20mm). So your system would need enough wire for the run (x2), two addition lengths to connect to the transformer, a 300va transformer, two tensioner packs, six lights of your choice and a set of feed-in connectors. But there is a potential problem if your fixing positions are on uPVC conservatory where there is a steel structural member behind the uPVC. You`d need to isolate the 12v supply for the fixing screws or the whole system will short-out on the metalwork. Call us for details if you like further assistance.
Availability: Typically dispatched in 4-7 days

We offer free delivery on orders over £50 to most UK Mainland Addresses
Related Products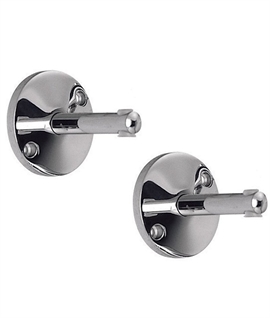 3 Products
£17.28
Holds Wire 60mm from Ceiling
3 Products
£28.51
Support for Apex or Sloping Ceilings
3 Products
£19.87
Can also be Used to Change Direction