The current disruptions to global shipping have impacted some product ranges, we will do everything we can to maintain quoted delivery times but there may be some delays. Read More..
Fire Hood for Recessed Downlights
Use for Your Choice of Downlight
Product Ref: 1277
From £8.30

inc VAT
Using a fire hood means that you can use a fitting of your choice (up to around 135mm in diameter) when installing recessed lights into a fire compartment. 60 minutes plus protection To fit from below roll up the hood and push through the downlight cut-out (don`t let go of the retaining tags!) Fix the retaining tags to the side of the cut-out with the supplied fixings.
Cut off the excess if any and then install your downlight.
To fit from above you can either use the retaining tags and screw down into the ceiling material or fix in place with a staple gun. Tips: For mains lamps pull the supply cable through the holes in the hood before pushing up into the ceiling.
For low voltage lamps locate the transformer in the ceiling and pull the secondary supply cable through the fire hood before locating in the ceiling void. Certified to British Standards for all types of ceiling. CE Marked.
This firehood is manufactured from fine woven silica fibre, similar to fibre glass. The fabric will not burn, and will melt only at temperatures exceeding 650 °C. The fibres are coated with Teflon to reduce its tendency to weaken or tear when manipulated, and to increase durability.
The ventilation holes are surrounded and protected by an intumescent material that expands and closes off the hole during a fire.
| | |
| --- | --- |
| Lamp Type | |
| Width | 150mm |
| Height | 150mm |
| Wiring Details | Not applicable |
I have 2 old downlighters - cut out diameter is 110 mm, depth is 140 mm. Can you please tell me which fire hood products/sizes are suitable?
This fire hood would be suitable for those downlights.
I've got some non-firerated 102mm round panel lights fitted. Are these hoods suitable?
Yes, these are suitable.
My ceiling fittings are for R80 spot bulbs. Do I need the larger or the smaller hoods?
For r80 downlights the larger fire hood would be required.
Hello, I bought several of these hoods last year and did not cover the fire hoods in my loft with insulation because of the overheating risk. Now my heating bills seem to have got much worse. Can I (a) put a support box over the hood then put insulation on top of that? or (b) if I just change all the bulbs from halogen to LED then surely the overheating risk is mostly gone and I can then put insulation over a box over the fire hood? Thanks!
The general practice is to have a ventilated support box over the hood which can then have insulation rolled over it. These are available from most good hardware stores or can be fabricated to your needs by your electrician. As you say, LED lamps do give out negligible heat so in theory are safe but still legally require a small void space between them and the installation so would probably still require a support box. We`d always suggest having an electrician check your installation to be certain of your requirements.
I am about to install about 50 mains voltage dimmable LED downlighters, none more powerful than 9W. Am I right in assuming that fire hoods are unnecessary with this low output? The LED bodies are aluminium finned.
The wattage of any lamp used makes no odds. If you break into a fire compartment i.e. cut a hole, you need to make good the integrity of that fire compartment. So are you putting 50 downlights into a fire rated compartment? If unsure look at the construction, double skin plasterboard or fire rated board are typically used to achieve this. if so you should consider using fire rated fixtures or the use of fire hoods. If the ceiling is just 9mm plasterboard it`s not a fire compartment, as it does not achieve even 30 minutes fire rating and therefore the use of fire hoods is a waste of time and money.
Hi, I have recessed downlights in my single story kitchen. During the winter months there is a terrible draught which comes through the lights. Would this be eradicated if I fitted the MLFR150 fire hoods?
More than likely not. You`d be better off measuring the hole size and asking us to find a sealed downlight to help you stay snug and warm in the winter months.
I want to use the fire hoods in my loft to go over my halogen downlighters, before I insulate my loft. Do I have to disconnect my lights - what I mean is does the wire have to go through the side hole in the hood?
No, while this is ideal it is not a requirement to do so.
I have Robus RF201 downlights which have an overall diameter of 106mm and overal height of 135mm to the top of the electrical connection point. Would these 150 x 150 fire hoods be suitable?
Yes they sound to be a perfect solution for your needs.
Can I use this fire hood with your downlight converter - ref KITCR80W?
Yes, This fire hood can be used with almost all our downlights including our downlight converter kit.
Do these firehoods comply with BS476:pt23
Yes
Can you tell me what part of the Building Regulations approved documents stipulates the requirement for fire hoods in a domestic house? Blowed if I can find it!!
The is no regulated document that stipulates the use of fire hoods or fire rated downlights. It just states in part B that (paraphrasing) if you make a hole in a fire compartment you need to maintain the fire integrity. There are very few fire compartments in the average home but they do occur, typically between integral garages and accommodation, in houses converted to flats and in 3 storey houses. But trying to explain this to the ill-informed can sometimes be a challenge.
I am about to order from you 5 White ARC downlights for 50w 12v lamps Ref: SAMDL309 with transformers for the attic. These lamps have a diameter of 130 mm and the fire hood Ref: SAMFH150
accommodates 120 mm diameter. Would you recommend me a larger fire hood from another supplier?
The diameter of the fire hood is 160mm with a rim of 250mm, so the fittings that you are looking at would be protected.
I have downlighters with transformers in my attic. I want to upgrade my attic insulation. Can insulation be packed around this hood?
Yes if you keep the transformer outside the firehood you can pack quilt insulation around a fire hood. Do not cover the firehood or the transformer with insulation - this will make them overheat.
I bought a square recessed light. It`s square 80*80 cm. This need a firehood, can I use this product SAMFH150?
Yes this fire hood would be more than adequate for your chosen down light.
Availability: Typically dispatched in 2-4 days

We offer free delivery on orders over £50 to most UK Mainland Addresses
Related Products
3 Products
£9.99
Accommodates Multiple Downlight Sizes
2 Products
£36.30
Also suitable for Multiple Downlights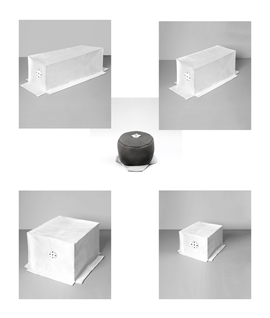 5 Products
£23.80
Accommodates Multiple Downlight Sizes