The current disruptions to global shipping have impacted some product ranges, we will do everything we can to maintain quoted delivery times but there may be some delays. Read More..
Dusk to Dawn Switch with Countdown Timer
Operates Lights at Night For a Timed Period
Product Ref: 1491
£22.80

inc VAT
Part L of the Building regulations is changing and outdoor lighting needs to meet new standards namely...100w per fitting is the maximum permissible and these must be automatically controlled i.e. with a dusk to dawn sensor or used with a proximity or PIR detector.
This photoelectric switch with timer is a perfect automated solution to turn lights on at dusk and off after a preselected time period.
Programming is easy with a LED indicator lamp guiding you through both the Time On period and Lux level settings.
Light on is adjustable from 1 to 8 hours. Can also be set to operate from dusk till dawn if required.
Adjustable lux setting allows you to program at what light level you want your lights to come on.
Technical details: Switching level adjustable between approx: 5-300 lux 10Amp resistive load (2400 watts mains incandescent) 3Amp inductive load (720 watts loading for low voltage, discharge or fluorescent).
LED indicator light Construction ABS casing with gasket entry to the base for cable entry (1 or 2 flex up to 12mm in diameter) and has two 15mm diameter knock-outs to the rear if required.
Standards BS EN 60730-2-7IP Rating IP44 Colour Grey
Wiring Options - Has cable entry at base for two flexes with silicon gasket. There are two knockouts on the rear which can also be used (gaskets supplied).
| | |
| --- | --- |
| Lamp Type | |
| Part L Compliant Luminaire | No |
| Lamps Included | No |
| Max Wattage | 2400w |
| Construction | Mixed |
| Wiring Details | Class 2 - Double Insulated - Requires no Earth Connection |
| IP Rating | IP44 |
| PDF Document(s) | View PDF |
I have outdoor lights on a dawn till dusk sensor. Can I use this product to switch the lights off after a few hours? Does this product replace that sensor or do I put it between the sensor and the lights?
Can I use this product to switch the lights off after a few hours? - Yes, that is its main function. Does this product replace that sensor or do I put it between the sensor and the lights. It would replace your existing sensor
Will this timer function correctly in a pigeon loft with no mains. In a scenario where lights are 12volts leds and power to unit is from 12 volt battery(s)
Sorry this device needs a mains A/C supply, so won't work in your example.
Are the fixing screws captive? As there are four of them it could be easy to loose some when adjusting the rotary switches.
Yes the screws are captive making much harder to lose them.
Can this unit operate with an on/off switch for when no one is home.
If you interrupt the power to the unit the timer will restart. So if you switch OFF the power and then switch back ON the lights will stay on for the time you have preprogrammed (in this case for another 2 hours)
I want to locate the sensor beneath the lighting source. Once the sensor is activated will it keep the lights on for the duration of the timer irrespective of the lux level from the nearby lighting?
The factory recommends that the sensor is not installed near any light source, The light output from the light can affect the sensor.
Is there an override switch, i.e. if I set it to switch off after 2 hours and then decide I need to have lights on for another hour will I need to open the box to do that ?
If you interrupt the power to the unit the timer will restart. So if you switch OFF the power and then switch back ON the lights will stay on for the time you have preprogrammed (in this case for another 2 hours).
Will this unit work in the USA on 110 volt input?
Unfortunately this unit only works on 220-240v
Can this or be connected up with SWA armoured cable?
Not something you would typically use to wire this type of sensor. Really it depends on the diameter of the SWA but we tend to suggest no, use a more appropriate flex.
Will this unit operate if mounted upside down? i noticed there is an up arrow on this, however the cables I hav would be entering from the topside so i would have it mounted upside down.
As long as you can maintain a good seal around the cables coming into the unit you will not have an issue. If you cannot make a good seal water will drop onto the electronics. The unit won`t care what way up it is.
Is there room inside this for a single terminal block for earth wires if required?
Yes there is room enough for a terminal block.
I want to use this unit to switch four LED driveway lights, total combined load is about 8W, but have heard that some units don`t work with such low loads. Do you think that it will work okay in this application?
There is no minimum load, and will work with up to 400w of LED, So yes, this would be more than okay.
I need to have three outside lights switched via this unit. The bulbs that will be used are Phillips E27 ES 60watt each. Will your unit be capable of doing this?
With a 2400w maximum load this unit could operate forty 60w lamps. So you`ll be well within the operating limits.
This seems to be he only automation device that can be used with a CFL bulbs (2 x 9W). Is there a PIR that will control them - or if I was feeling mad could I connect a PIR to turn on this dawn till dusk sensor which would then control the lights?
You could use this in conjunction with a PIR sensor. The power goes through daylight sensor to the PIR. If you lights are going to be switched off and on frequently we`d suggest you use Philips professional CFL lamps for an extended lamp life.
I have bought 2 similar units from Maplins in the past and they have both failed very quickly. I have a number of low energy fluerescent lights I am switching and was told this type of unit is not suitable. I this really suitable for switching CFL bulbs
We have sold this unit for around four years and have not received any feedback about issues with CFL loads. Assuming you are not using cheap CFL lamps ie Philips Genie or anything from Poundland we cannot foresee any problem.
Having sensed dusk and switched on the load to which it is connected, does it then remain on for the programmed time, regardless of the light level rising again?
We have not undertaken any tests to replicate this scenario. However if this higher light level is maintained for two minutes the unit will switch off.
I currently have a MK masterseal light sensor which has failed after only 2 years. It has only 2 wires - a supply to it and an outgoing feed to the light. Will this unit replace my current one?
The MK dusk til dawn sensor is just a photoelectic sensor. This is a more complicated product and as such requires a neutral feed as well as a live supply.
Can i have either a PIR or Sensors incorporated so as to operate several Non-maintained Emergency light fittings?
A non-maintained emergency light comes on when the power supply is interrupted. They should be connect to a live mains supply at all times. If you have maintained emergency light they have two supplies: one as above; and one switched supply. You can use a PIR or dusk til dawn photocell on the switched supply. If you need more clarification please call us
Is this unit suitable for low energy compact bulbs?
Yes it will switch CFL and any other inductive to loads to maximum of 720w.
Prior to purchasing this product I need to know how the incoming power is connected as currently I have 2 double exterior sockets.
The easiest solution would be to take power via your exterior socket via a flex. Wire this into the switch and connect the outgoing (switched live) to your lighting. Then you can allow the photoelectric switch to switch on and off your lights automatically or manually switch them off via your switched double socket. For safety your external socket should be the type that closes securely with plug in place.
Is this unit suitable for low voltage garden lighting via a 250watt transformer
This unit is suitable for low voltage lighting up to a maximum of 720watt, so yes.
What is the input voltage?
230 volt mains i.e standard incoming mains.
Is this until fully weatherproof to be used outside?
This unit is IP44 rated which means that it offers protection from entry by tools, wires, etc., with a diameter of thickness greater than 1.0mm and also protection from splashed water. In short it is suitable for general outdoor use.
Availability: Typically dispatched in 4-7 days

We offer free delivery on orders over £50 to most UK Mainland Addresses
Related Products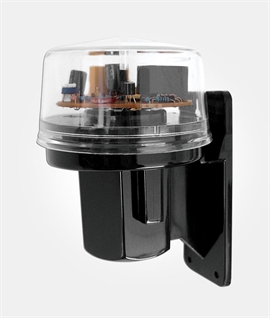 2 Products
£9.50
Two Versions
£17.98
With Easily Resettable Light Sensor