The current disruptions to global shipping have impacted some product ranges, we will do everything we can to maintain quoted delivery times but there may be some delays. Read More..
Stand Alone PIR 360º Detection with Corner Bracket
Indoor or Outdoor Use
Product Ref: 1492
£40.32

inc VAT
A remote PIR movement detector supplied with wall and corner mounting bracket, available in white only.
Full 360º works well for people coming and going so you do not get half way down the drive before the lights come on.
In the box is a corner mounting bracket - giving good protection of your property. Features vertically and axially adjustable head, adjustable lux level and timing.
Technical details: Switching level adjustable between approx, 5-300 lux 2000w resistive load (mains incandescent) 500w inductive load (low voltage, discharge or fluorescent).
Construction ABS casing with gasket entry at rear for cable entry.
2 metre range 360º detection zone. Construction ABS casing. Standards BS EN 60730-2-7. IP Rating IP44.
Maximum height for this fitting is 3 metres.
| | |
| --- | --- |
| Lamp Type | |
| Part L Compliant Luminaire | No |
| Max Wattage | 2000w |
| Width | 80mm |
| Height | 75mm |
| Depth/Projection | 150mm |
| Construction | Plastic - ABS |
| Wiring Details | Class 2 - Double Insulated - Requires no Earth Connection |
| IP Rating | IP44 |
| PDF Document(s) | View PDF |
Can I wire this up to 5 LED downlights for the under soffit? Also, what are the time lengths?
Yes - the timing is 5 seconds to 5 mins.
Does this PIR only have a corner bracket, or can it also attach to a flat surface?
This fitting is designed to be installed onto corners and only corners.
What is the range of the senor and can it be adjusted? The sensor needs to fit on corner of the house facing drive, which is within 7m of the road. Would not want passing traffic to continual activate it.
It has a range of 12 metres. And unfortunately this can not be adjusted.
Will this work with LED lighting with a load of 40W total? Also what is the power use of this?
It`s "no load" use of electricity is negligible certainly less than a watt. It will switch the 240v primary input (the mains supply of a LED driver or low volt transformers) without problem. It cannot switch the secondary (output) of drivers or transformers - a mains supply is needed to make the sensor work.
can you supply a flat (not corner) PIR in white?
We have a flat surface mounted PIR occupancy detector which can be found here.
Can you supply the stand alone pir 360 detector c/w corner bracket in BLACK?
Sadly this is only available in White. Black polyester spray paint?
Is there an override to switch the lights permanently on?
This PIR doesn`t have a override.
What is the maximum load of lighting I could run off the sensor without doing it any long term harm?
The maximum load is 2000w on resistive loads (mains incandescent) and 500w inductive load (low voltage, discharge or fluorescent). Frequent switching of a high loads is likely to reduce the life of the micro relay.
I have eight soffit lights controlled by the PIR 360º. At dusk, sometimes the lights flash on and off repeatedly, maybe for few minutes. Activating the sensor up close turns the lights on and ceases the flashing. What could be causing this?
Oddly enough this issue can often be caused by other lights (or more often controls) on the same circuit. So consider what other lights in your home are on the same mcb or fuse on your consumer unit. If you have a dimmer on any of these lights swap this dimmer for a switch and see if the issue still occurs. If the problem dissapears consider changing the dimmer unit for another make.
Similar to the question above, I have 2 x 60w halogen down lights in my porch. Would I need a remote relay?
No this PIR would switch a 120w without issue for a very long time.
We have two 300w halogen floodlights and one 500W halogen floodlight and one ordinary 60w bulb wired to one corner sensor We have twice purchased a 270 degree sensor with a 2Kw switching capacity and 480w fluorescent switching both of which have ceased working after two months. Can this sensor take the capacity of the lights above without breaking down after a short period of time as it is costing us a fortune for sensors to not work
So that`s a total load of 1160w going through the PIR. Frequent triggering of the PIR will take it`s toll on the micro relay inside and while this product has a twelve month guarantee perhaps you should design the system to last considerably longer. We`d suggest you use your new PIR to trigger a bigger remote relay - that way there`s a lower load on the PIR relay (no inrush current means no burning out of the contacts). component relays are built to take much bigger loads giving the lighting solution the longevity required.
Availability: Typically dispatched in 4-7 days

We offer free delivery on orders over £50 to most UK Mainland Addresses
Related Products
2 Products
£9.98
Indoor or Outdoor Use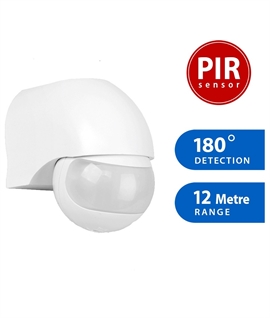 £10.40
Indoor or Outdoor Use