Feed-in for Low Voltage Tension Wire Systems (Pack 2)
Provides Power to Tension Wire Systems
Product Ref: 1754
From £8.64

inc VAT
A pack of 2 feed-in clamps used to provide power to tension wire systems from the transformer. Each clamp has a small screw with a spike which pierces the wire and completes the electrical circuit.
Available in chrome, white or black.
IMPORTANT NOTE: when installing the clamps ensure they have a good connection. Cables that are not sufficiently secured create resistive connections which may cause excessive heating or fire. Periodic checking of the tightness of any connections is recommended.
| | |
| --- | --- |
| Lamp Type | |
| Part L Compliant Luminaire | No |
| Wiring Details | Class 3 - Requires a low voltage supply |
Can this take a 6mm tension cable?
Yes, This can take both 4mm and 6mm cable.
Do I need one pack per wire or is one pack sufficient for a pair of wires?
There are two connectors in each pack - that will allow you to connect both wires to the transformer.
Can the feed in screws be used to connect two parallel wire runs supplied via a single transformer?
Yes absolutely they may be used to connect different runs of track.
Can the Feed In screws be used to continue a run over an obsticle. i.e for a run in between trusses. Needing only one transformer?
Great question and we like the way you think. Yes you can transfer power from one "track" to another using the feed-in connectors and a short length of the cable.
Availability: IN STOCK 4-6 working day dispatch

We offer free delivery on orders over £50 to most UK Mainland Addresses
Related Products
12 Products
£1.92
Insulated 4.0mm or 6mm Square Conductors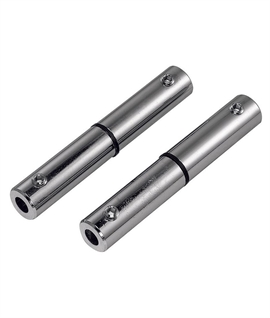 3 Products
£16.03
Break up Separate Lengths of Tension Wire