Slow freight at UK ports is impacting some orders, we will do everything we can to maintain quoted delivery times but there may be some delays. Read More..
Cable Tension Wire Available in Clear, White or Black
Insulated 4.0mm or 6mm Square Conductors
Product Ref: 1761
From £1.92

inc VAT
2 new finishes available - Black and white have been added!

Low voltage insulated cable sold either per metre or in reel quantity of 100 metres. Conductors are braided, nickel plated copper wire and insulated with either a clear, black or white PVC covering.
4mm² cable has a rating of 16amps so can have a total load of 200watts i.e. 4 x 50w lamps, 5 x 35w lamps or 10 x 20w lamps.
6mm² cable has a rating of 25amps so can have a total load of 300watts i.e. 6 x 50w lamps, 8 x 35w lamps or 15 x 20w lamps.
Suitable for use with our Low Voltage Tension Wire systems.
If you order a quantity between 1 and 100 it will be provided in one length. Please specify if you wish for it to be cut differently.
| | |
| --- | --- |
| Lamp Type | |
| Part L Compliant Luminaire | No |
| Wiring Details | Class 3 - Requires a low voltage supply |
I`m looking for a lights on wire system. I`ve got a long run of 11m that I want to run the cables along. I`m interested in running the system with LED bulbs. What would you reccomend for this system?
LED lamps are commonly available with GX5,3 base so you can use any fixture designed for a 12v lamp. LED AR111 lamps are also available but these cost a lot more. 11 metres is quite a run, and you will have to carefully consider what power supply to use. Contact us for help on designing the system. We`d be happy to help.
When you state the maximum length of a wire track, is this the sum of the out and return lengths? So a five metre track would only span 2.5 metres. I want to use this form of lighting in a room 6.2 metres long, placing the transformer on one wall. Is this feasible?
The wires have a rating of 25 amps so that`s a total load of 300 watts. If you only want 6 fixtures with 50 watt lamps this will work. If your load will be higher you will need to have a transformer at each end and an isolator connecting the two. Volt drop is an issue on longer runs but as your fittings are spaced out along the run you will only notice that the end lamp is not as bright as the first light (if you look really hard). A 6.2 metre run will require intermediate supports or it will sag quite considerably. A good quality conventional (laminated or teriodial) transformer will be required.
What is the diameter of the cables without the pvc cover.
The cable sizes are cubic mm sizes. The 4mm cable is 3.8mm diameter with a 0.7mm thick pvc insulation. The 6mm cable is 4.2mm diameter with a 0.7mm thick pvc insulation.
What is the maximum length you can make the wire track?
Five metres is a good length at which to start considering using more than one transformer. On longer runs an isolator can be used so that two each side of a longer run can have up 300 watts of lights. You can use a single transformer for 6-7 metres without being to concerned about voltage drop. Ten metres is possible on 6pm cables but you will see the lamps as brighter closer to the transformer.
Availability: Typically dispatched in 4-7 days

We offer free delivery on orders over £50 to most UK Mainland Addresses
Related Products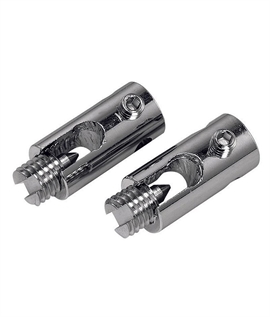 3 Products
£8.64
Provides Power to Tension Wire Systems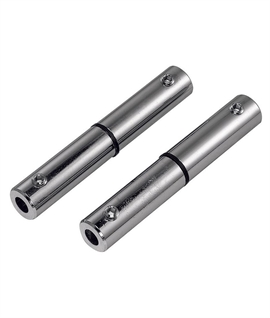 3 Products
£16.03
Break up Separate Lengths of Tension Wire - avoid short-circuits!