Bathroom Semi-Recessed Low Level Light for Wet Areas
Polished Chrome or White Finish
Product Ref: 6340
From £56.27

inc VAT
This is a semi recessed LED wall light available in either a chrome or white finish. An unusual design for the bathroom and not a style you would normally see - this fitting can be used in other living spaces in the home if required.
Installed at low level this will provide glare free lighting, providing illumination and interest.
IP65 rated, suitable for bathroom zones 1, 2 and 3 and Class 3. Great for wet rooms or wet areas.
Comes complete with a 2w LED warm white (2700k) lamp for energy efficiency.
Requires a 700mA constant current LED driver. Can be dimmed when used with an appropriate dimmable LED driver.

| | |
| --- | --- |
| Number Of Lamps | 1 |
| Lamp Type | Long Life LED light source |
| Lamp Lumens | 65 |
| Lamps Included | Yes |
| Dimmable? | Yes - when using the specified equipment |
| Max Wattage | 2w |
| Total Wattage | 2w |
| Width | 70mm |
| Height | 70mm |
| Adjustable Height | No |
| Construction | Mixed |
| Wiring Details | Class 3 - Requires a low voltage supply |
| IP Rating | IP65 |
| Kelvin | 2700°K - Soft Warm White |
| Driver | No driver or transformer is supplied with this fixture (sold separately) |
| PDF Document(s) | View PDF |
Thinking of using this as a downlighter above a roll top Bath. It would be approx 32ins (81cm) above top of rolltop bath. Would this be suitable?
These are IP65 and are suitable to go in the vicinity near the bath. These are more often used as low level lights and if this is your main souce of light will not be very bright.
How far would the light cast? If three feet above a standard basin, would a person at the basin be illuminated?
The downwards light has a 40° beam angle, for this application you`d be better off with a glass shaded wall light that casts light horizontally as well as vertically.
Can the bulb be warm white or yellow - we dislike cold white lights. If we order in white finish, can we paint the `dome`?
Yes, the included bulb is a warm white. If you follow the proper metal painting technique then it is possible but any modification of the product would void the warranty.
Availability: IN STOCK 2-3 working day dispatch

We offer free delivery on orders over £50 to most UK Mainland Addresses
Related Products
£73.03
Up & Down Lighting with In-built LEDs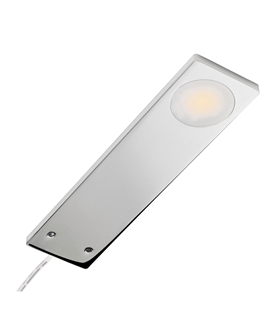 2 Products
£28.85
Perfect for Kitchens or Bathrooms