Offset Pendant Accessory
A Simple Solution to Move your Lighting
Product Ref: 5611
£14.00

inc VAT
This is an accessory that may save you time and money... Have you ever had the situation where the existing lighting in your space is in the wrong place? House builders are convinced they know best when installing light points but often their ideas do not always match your own.
Moving the housing wiring can be troublesome and expensive and leaves many thinking they have to move the furniture to match the light positions. We have a solution and it is a solution that is quick and easy:
The existing wiring ceiling rose does not have to be moved. Simply re-route the flex through this accessory and fix in place where required i.e. over a table. If you need longer flex to achieve this why not consider one of our colourful pendant fittings?
This is not a listing for a pendant light.
| | |
| --- | --- |
| Lamp Type | |
| Height | 15mm |
| Diameter | 20mm |
| Wiring Details | Not applicable |
Unable to undo the offset pendant accessory. Any tips?
It should simply unscrew? Please call us if you are still having problems.
Does this come with screws and plugs for mounting? Does it also have a min/max cable size requirement?
This does not come with screws. There is no minimum for size, but the maximum is 8mm.
Hi - I was looking at buying one of your large Jogg chandelier's and think this might solve me needing to re-wire from the existing ceiling rose. Wondered if this effectively held the weight of the chandelier though and if so whether it would be strong enough to hold a larger light such as the jogg? Thanks
The Jogg is large and could be called voluminous but like my brother He Ain't Heavy. So as long as your fixing is secure (ideally into a joist) you won't have any problems supporting the weight of the Jogg from this accessory. That said the largest Jogg pendants use two length of flex so you might need two!
Availability: IN STOCK 2-3 working day dispatch

We offer free delivery on orders over £50 to most UK Mainland Addresses
Related Products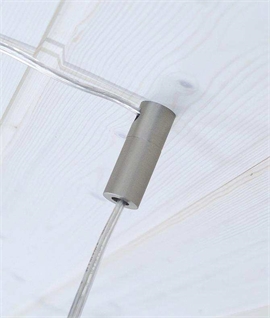 £11.95
A Simple Solution to Offset Your Pendant