The current disruptions to global shipping have impacted some product ranges, we will do everything we can to maintain quoted delivery times but there may be some delays. Read More..
Low Profile Slim Fit LED Downlight - Edge Lit
Available with 3 Hour Emergency Option
Product Ref: 7229
From £29.38

inc VAT
Commercial quality LED downlight, incorporating the latest in LED technology, combining energy efficiency with an exceptionally high light output. Perfect omnidirectional light distribution where the LEDs cannot be seen through the opal diffuser.
This is a SMD high power Phillips LED downlight suitable for indoor use within office buildings, restaurants and residential areas.
Easy to install with a simple spring clip design.
This downlight is a great choice for energy-efficient lighting which provides a high lumen output. Ideal for use in shallow ceiling voids or under plant equipment and can be installed in voids as low as 16mm.
Outer Bezel: cast alloy with matt white finish
Diffuser: acrylic with matt white finish
Supplied with Phillips remote micro driver, just wire into mains. Double insulated - no earth required. IP20 rated so good for toilets and areas outside of zone 2.
Neutral white 4000°k LED with 50,000 hour life.
Options:
9w 630 lumens
Diameter: 146mm, hole size: 130mm
12w 1130 lumens
Diameter: 170mm, hole size: 160mm
15w 1520 lumens
Diameter: 190mm, hole size: 180mm
18w 1800 lumens
Diameter: 225mm, hole size 210mm
24w 2430 lumens
Diameter: 300mm, hole size 282mm
3 hour Emergency option available in all sizes - please note these are made to order (typically 5-7 days)
Pre-wired auto self-test emergency pack with LED indicator on flying lead, inverter, lithium ion battery

Complete with a 3 year warranty.
Open Box Options:
In Stock for Quick Dispatch
Limited Stock

9w 660 lumens - Emergency Option
Dia 145mm x 135mm cut-out x recessing depth 16mm
| | |
| --- | --- |
| Lamp Type | Long Life LED light source |
| Lamps Included | Yes |
| Dimmable? | No |
| Depth/Projection | 25mm |
| Construction | Aluminium and acrylic |
| Wiring Details | Class 2 - Double Insulated - Requires no Earth Connection |
| IP Rating | IP20 |
| Kelvin | 4000°K - Neutral White |
| Driver | Includes integral driver/transformer suitable for 230 - 240v supply |
Can you supply cut out sizes required for the 9,12.and 15 watt units
The cut out size, or hole is provided in the description, but for clarity: 9w - hole size: 130mm 12w - hole size: 160mm 15w - hole size: 180mm 18w - hole size 210mm 24w - hole size 282mm
What is the depth of the driver box please?
The dimensions of the driver box are 23x37x87mm.
I'm interested in installing several different sizes in the same ceiling. Would there be any noticeable difference in brightness between the different sizes? i.e. if I placed a 146mm light next to 300mm lights, would there be any visible difference apart from the size?
The human eye/brain is fantastic- better than the best camera, hooked up to a super computer, and it won't register the difference by design. Imagine how destructed we would be walking through shadows or under trees if our irises and brain didn't do all the work for us.
Do the chrome parts that stick out in the first picture show when the light has been fitted?
The chrome parts are spring clips that are used to keep the fitting in place. They are typical on most downlights and are not visible when fitted.
I am looking to replace 3 halogen soffit downlights on my garage with LEDs and wonder if these can be used outside.
These have no IP rating, We would not recommend using these outside. All our soffit downlights can be found by searching c20228 in our search box.
Are these fire rated?
These are not fire rated, a Fire hood could be used to make it fire rated.
Availability: Typically dispatched in 2-4 days

We offer free delivery on orders over £50 to most UK Mainland Addresses
Related Products
4 Products
£29.40
Warm or Neutral White Lamps
3 Products
£9.95
Available in Three Wattages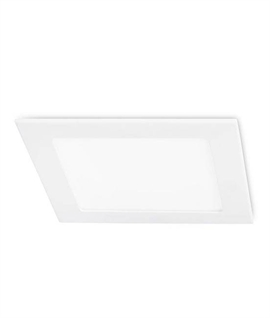 4 Products
£8.95
Four Sizes and Wattages Available