The current disruptions to global shipping have impacted some product ranges, we will do everything we can to maintain quoted delivery times but there may be some delays. Read More..
LED Scoop for Low Level, Glare-Free Lighting
Great for Lighting Stairs or Walkways
Product Ref: 2736
From £38.88

inc VAT
A silver grey or white subtle low level lighting with a 1w high power LED. With its square design and faceted reflector, which is great for casting light down and out. Designed for installation into plasterboard - requires an overall recessing depth of 45mm minimum.
Cut out: Height: 81mm x Width: 69mm.
A frame is available to aid installation in brickwork walls that can be plastered into place, see below in the variants. If using the frame for this fixture continue to use the same size cut out. (81mm x 69mm). If installing into a plasterboard a frame is not required.
Ideal installed along corridors and stairways.
We suggest that drivers are located remotely where access can be gained if repair or replacement is required.
Total circuit wattage should not exceed approximately 80% of rating of the driver.
Offered in two colour temperatures - 3000k (Warm white) or 4000k (Neutral white)
Requires 350mA LED driver and to be wired in series.

| | |
| --- | --- |
| Number Of Lamps | 1 |
| Lamp Type | Long Life LED light source |
| Part L Compliant Luminaire | No |
| Lamps Included | Yes |
| Dimmable? | No |
| Total Wattage | 1w |
| Width | 90mm |
| Height | 90mm |
| Suggested Void Depth | 38mm |
| Construction | Aluminium - Powder Coated |
| Wiring Details | Class 3 - Requires a low voltage supply |
| Driver | No driver or transformer is supplied with this fixture (sold separately) |
| PDF Document(s) | Installation Help |
We are moving in a new house where the staircase is already built. We would like to add some led spotlights. Is it possible to happen?
Putting low level lights in after the staircase and walls are built is possible, but may be a little messy. We do offer a design service, you could take some photographs and send them to us so we could advise you on what other solutions may be used.
Are these dimmable? What does K mean? eg 3000k
K is short for kelvin and 3,000 degrees Kelvin is a warm white light. Sorry if this was not clear. It's very hard, due to the low load, to dim LED fixtures, but it is easier when a number of lights are powered by a larger (dimmable) power supply. Do contact us with details of you project, we will be happy to assist with the design.
We'd like to install these in our new build: do we need a separate driver for each fitting, and can they be triggered by a PIR?
These fittings are 1 watt each, and so if using the 3-way connector you can connect 3 fitting to one 3 watt power supply. In theory, there is no reason as to why these couldn't be controlled by a PIR. You would need to make sure that the relevant PIR can work with LED and have a low minimum load.
We are looking to install the lights in a staircase where you can walk past on ground level. When looking up at the lights the bulb inside the light mustn't catch the eye. Would these ones work well in that respect? Do you have any others that are similar but smaller in size?
Yes these would work in your instance, and light will not be in the eye when walking past. The lamp is covered and light is directed downwards. This is one of our smaller fittings.
What type of LED does this fitting take? Can you replace the LED, should it fail 30,000 hours later?
The LED is integrated and can not be replaced. It takes a powerLED 1w.
Availability: Typically dispatched in 4-7 days

We offer free delivery on orders over £50 to most UK Mainland Addresses
Related Products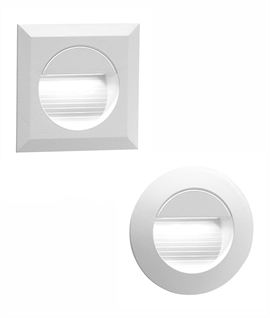 4 Products
£14.57
Integral LED Driver Just Requires a 240v Mains Supply