Pro-HD Bulkhead Light - CCT Colour Temperature Adjustable
Options include Decorative Trims, 3 Hr Emergency and Microwave sensors
Product Ref: 6165
From £38.28

inc VAT
A low profile, surface mounted, CCT LED bulkhead which is offered in standard, sensor, emergency and emergency with a sensor.
What is CCT? CCT means you are able to pick the colour temperature, there are 3 options available - 3000K, 1085 lumens / 4000K, 1285 lumens / 5700K, 1130 lumens.
The fitting is IP65 rated providing protection from splashed water making it suitable for installation indoors or outside.
Comes with a 14w built-in LED lamp which is not dimmable. This LED has a lifetime of over 30,000 hours, With the added bonus that the LED tray can be replaced. We have added these to the variation so they can easily be bought when required.
You can also choose four different trim finishes - matt brass, chrome, Black or Grey. Also available in Eyelid accessory which is available in Black, grey and silver.
Sensor Details:
Microwave sensors are more reliable than PIR sensors and are able to sense/work through solid and non-metallic materials such as cubicles and structure.
1. Time - can be adjusted. You can have the light stay on as little as 5 seconds to a maximum of 30 Minutes.
2. Photocell light sensor can be adjusted to operate the light only when the natural light level is low.
3. Distance/Range - the sensor can be adjusted from 2 metres to 8 metres.
Emergency Details:
3 hour Maintained Emergency.
Includes integral battery pack.
| | |
| --- | --- |
| Lamp Type | Long Life LED light source |
| Lamps Included | Yes |
| Dimmable? | No |
| Max Wattage | 24w |
| Total Wattage | 24w |
| Diameter | 315mm |
| Depth/Projection | 117mm |
| Construction | Polycarbonate |
| Wiring Details | Class 2 - Double Insulated - Requires no Earth Connection |
| IP Rating | IP65 |
| PDF Document(s) | View PDF |
Can this be either wall or ceiling mounted?
This fitting can be wall or ceiling mounted.
Availability: IN STOCK 2-3 working day dispatch

We offer free delivery on orders over £50 to most UK Mainland Addresses
Related Products
2 Products
£174.00
Round or Square Option inc Remote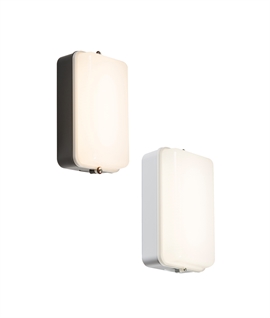 2 Products
£24.65
IP54 Rated for Outdoor Use - White or Black
£45.82
Black Finish and IP65 Rated