Glass Canister LED Exterior Wall Light
Galvanised or Copper Finish
Product Ref: 6295
From £84.00

inc VAT
This attractive exterior wall light comes supplied with a high power LED light source. A bare bulb effect and industrial metal styling brings this fitting right into the modern day, playing interior lighting trends against rugged exterior styling.
The design offers a brilliant ambient light utilising a large glass cover with no diffuser or shade, the LED light source is slightly recessed behind the glass in order to avoid direct glare when viewed from an angle, yet provides a wide beam of light all 360° of the way round.
Available in either a galvanised steel or copper finish. Ideal for exterior walls, porches or outbuildings.
LED gives warm white light (3000°k) and is replaceable in the event of failure.
The LED can be dimmed if required, please consult an electrician to choose the correct equipment.
IP rating - IP54. (Protection from splashed water along with dirt and dust interference). Produces a very warm white (3000°K) light, perfect outdoor illumination without the unpleasant glare that a cool white can create within a dark setting.
Number Of Lamps
1
Lamp Type
Long Life LED light source
Lamps Included
Yes
Dimmable?
Yes - on standard dimmer
(TRIAC or leading edge)
Max Wattage
5w
Width
115mm
Height
245mm
Depth/Projection
185mm
Adjustable Height
No
Construction
Solid Copper/Galvanised Steel & Glass
Wiring Details
Class 1 - Requires an Earth Connection
IP Rating
IP54
Kelvin
3000°K - Warm White
Driver
Includes integral driver/transformer suitable for 230 - 240v supply
Do these lights actually take a bulb, if so, please recommend which ones.
This fitting has in-built LEDs, which are slightly recessed behind the glass.
Can these fixtures withstand SALTY SEA AIR or will they succomb to rust and erosion?
As these fittings are constructed from copper and galvanised steel these are corrosion resistant and find to be used in salty air environments.
Can this be connected to a PIR already in place? Does this need a LED transformer or is that integral to the unit?
This can be connected to a PIR already in place, Just make sure that the PIR doesn`t have a minimum load, as this fixture is only 5w. Only a mains connection is required, As the driver is built in.
Availability: IN STOCK 4-6 working day dispatch

We offer free delivery on orders over £50 to most UK Mainland Addresses
Related Products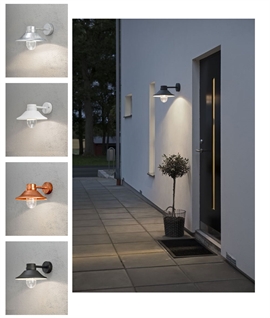 4 Products
£130.00
White, Galvanised, Black or Copper
£81.00
Great for Exterior Walls or Doorways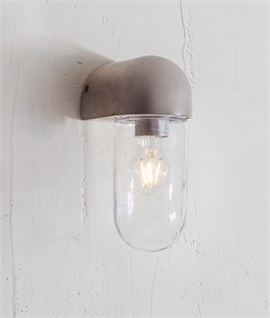 £51.00
Perfect for a Decorative Lamp