E27 Compact Fluorescent Lamp - Various Wattages
Radium Master Professional Lamp
Product Ref: 3841
From £4.00

inc VAT
This lamp does not feature the annoying problems associated with cheap CFL lamps: its life is not affected by switching on and off - so it can be used on PIR sensors and used in the lavatory! It will last 15 times longer than an incandescent lamp and is well suited to extend operating hours or locations where replacement is difficult.
It is the perfect choice for end users that demand the best performance and reliability.
One fifth the energy consumption of an incandescent lamp for the same light output. Not suitable for dimming and electronic devices. Available in 11w, 20w, 23w.
Dimensions
11w Lamp
Length 125mm x diameter 45mm
12w Spiral Lamp
Length 102mm x diameter 41mm
660 lumens
15w Spiral Lamp
Length 106mm x diameter 41mm
900 lumens
20w Lamp
Length 158mm x diameter 49mm
20w Spiral Lamp
Length 111mm x diameter 54mm
1300 lumens
Also available in SES (Smaller Edison screw).
| | |
| --- | --- |
| Lamp Type | E27 (ES) Base Mains Lamps |
| Dimmable? | No |
| Width | 28mm |
| Wiring Details | Not applicable |
It says use a 60W ES27 Compact Fluorescent lamp - but you only show these that go up to 33W. Is there a 60w lamp for this light?
It may be that you require a CFL lamp that gives the equivalent of a 60w incandescent lamp i.e. an eleven watt lamp. It would help if we knew the fixture for which you are trying to find a lamp.
Availability: IN STOCK 2-3 working day dispatch

We offer free delivery on orders over £50 to most UK Mainland Addresses
Related Products
3 Products
£3.90
Philips Master and Radium Professional lamps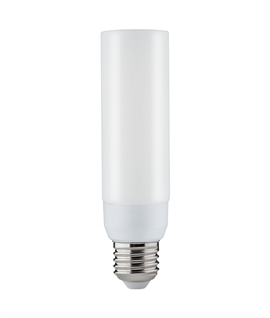 £21.47
Offered in Soft Warm White - 2700k