Stainless Steel Recessed LED Floor Spot - IP67 Rated
Super Slim - Niche & Discreet
Product Ref: 52404
From £14.99

inc VAT
A low profile floor spot ideal for laminate flooring with a shallow depth. Constructed with a stainless steel frame, making these built to last and a must-have for areas that need low-level lighting.

Attached to this fitting is 2 meters of cable, allowing you to daisy chain these over a wide area, connecting them easily with the included sockets.
The integrated energy-saving LED shines impressively considering its small size, while still remaining efficient.
Two colour temperatures are available for this fitting - 3000K and 4000K. Both shining at 160 lumens.
These are IP67 rated and 12V making them excellent for use externally or internally. Ideal for placing in a salon or shop floors as no damaged will be caused by a wet mop (even if you knock the bucket over).
A 12V driver with a TOP socket is required for this fitting - the recommended driver listed below can power up to 12 at a time.
| | |
| --- | --- |
| Lamp Type | Long Life LED light source |
| Lamp Lumens | 160 |
| Lamps Included | Yes |
| Max Wattage | 1w |
| Height | 8.5mm |
| Diameter | 50mm |
| Cut-Out Diameter | 42mm |
| Construction | Stainless Steel |
| Wiring Details | Class 3 - Requires a low voltage supply |
| IP Rating | IP67 |
Please confirm total depth including fitting and also if these are dimmable.
The total depth is 8.5mm. These are not dimmable.
Availability: IN STOCK 2-3 working day dispatch

We offer free delivery on orders over £50 to most UK Mainland Addresses
Related Products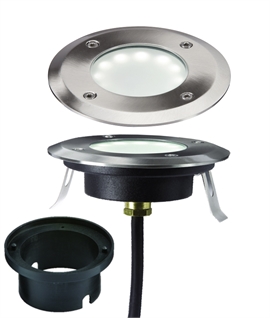 2 Products
£43.15
Only 40mm Depth - White or Blue LEDs
2 Products
£95.04
Round Flat Design
3 Products
£27.50
Available in Two Colour Temperatures - 3000k or 6500k