E27 EcoHalogen GLS Lamp
Saves 30% on your Energy Costs
Product Ref: 3775
From £1.50

inc VAT
Energy saving mains voltage halogen lamp in a classic GLS shape.
Wide choice of wattages to replace classic incandescent range from 30w to 116w.
Excellent environmental choice because of high energy efficiency and long reliable lamp life.
Who are Radium? For more than 100 years the German company Radium Lampenwerk GmbH have produced high quality lamps for commercial and domestic use. They are committed to protecting the environment both at their production facilities and through promotion of energy efficient lighting. With Radium, you can buy cheaper but you will not be able to match the quality.
Halogen capsule - sparkling crisp white halogen light of professional quality
Dimmable on any dimmer module
Direct retrofit for the corresponding incandescent lamps
Edison Screw E27 base
Lamp Type
E27 (ES) Base Mains Lamps
Part L Compliant Luminaire
No
Dimmable?
Yes - on standard dimmer
(TRIAC or leading edge)
Height
96mm
Diameter
55mm
Wiring Details
Not applicable
PDF Document(s)
View PDF

What is the length please of the E27 GLS Lamp - EcoHalogen?
The length of the lamp including the screw cap is 96mm.
When a light fitting specifies a wattage (eg 60w) does that mean with these energy saving lamps you could in fact have a 53W (which is really a 75W) or must you have a a 42W (which is really a 60W)?
Luminaire manufacturers carry out thermal testing. This considers the heat generated by a lamp. Heat generated is closely related to the wattage. So if the fitting states Max 60w you can use a 53w lamp and get the light equivalent of a 75w.
Availability: IN STOCK immediate dispatch

We offer free delivery on orders over £50 to most UK Mainland Addresses
Related Products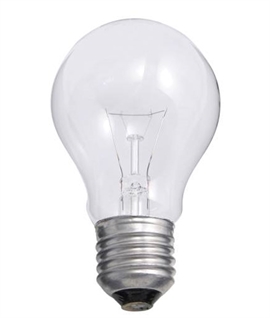 £0.55
Clear & 40 Watts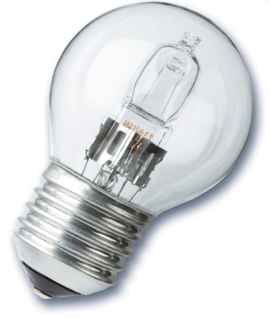 3 Products
£2.95
Saves 30% on your Energy Costs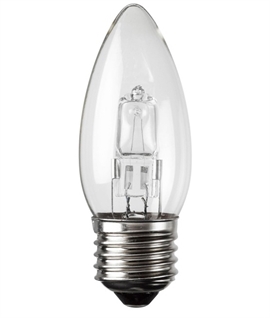 2 Products
£1.90
Available in 30w (40w) or 46w (60w)