Dimmable 24V DC LED Driver
For Use with Flexible LED Lighting Tape
Product Ref: 7143
From £21.84

inc VAT
A range of dimmable 24V DC drivers, especially useful for the Flexible LED Lighting Tape. If you do not require dimming your system you can find our non-dimmable drivers here.
We suggest loading the power supply as close to its maximum capacity for the most effective dimming., to work out your power requirements just times your LED tapes power rating by the metres required.
Dimmable drivers are compatible with good quality Leading and Trailing edge dimmers along with most advanced dimming systems, please contact us to check compatibility.
12 watt
Length 120 x width 40 x height 27mm min load 10 watt
30 watt
Length 158 x with 45 x height 19mm min load 15 watt
36 watt
Length 140 x width 47 x 29mm min load 25 watt
48 watt
Length 155 x width 53 x height 30mm min load 33 watt
75 watt
Length 120 x width 40 x height 27mm min load 50 watt

150 watt
Length 310 x width 60 x height 45mm min load 20 watt
200 watt
Length 305 x width 55 x height 45mm min load 130 watt
It is possible to multiply the wattage of any of these drivers by adding in parallel up to 4 matching drivers.
All drivers include safety features such as short circuit, overload, thermal protection and a robust aluminium housing ensuring a safe installation and a durable product range.
| | |
| --- | --- |
| Lamp Type | |
| Dimmable? | Yes - on trailing edge (reverse phase dimmers) |
| Construction | Steel |
| Wiring Details | Class 1 - Requires an Earth Connection |
Be the first to ask a question about this product!
Availability: IN STOCK 4-6 working day dispatch

We offer free delivery on orders over £50 to most UK Mainland Addresses
Related Products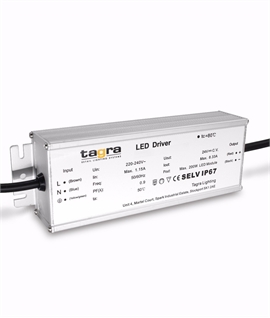 8 Products
£19.00
For use with Flexible LED Lighting Tape