The current disruptions to global shipping have impacted some product ranges, we will do everything we can to maintain quoted delivery times but there may be some delays. Read More..
Flexible LED Lighting Tape - RGB
User Friendly Remote Control available
Product Ref: 6122
From £13.70

inc VAT
Providing customers with the best product to suit their budget and needs has always been a mantra for Lighting Styles. Here we offer a colour changing LED tape that is easy to install and easy to operate with a user-friendly hand held RF transmitters.
So what is so good about this item? Well, some suppliers think it is okay to make you solder leads onto LED tape and some offer remote controls that are hard to use and really ugly! This takes LED tape to the next dimension.
Sold in 1000mm lengths Or 5 Metre Reel. The Reel would need to be cut on site.
14.4W
Can be cut every - 100mm.
870 lumens. (62 LM/W)
Width: 10mm. Thickness: 1.2mm
24W
Can be cut every - 50mm.
1920 lumens. (80 LM/W)
Width: 12mm. Thickness: 2.0mm
The LED tape is self-adhesive and offered in pre-cut and pre-wired lengths to suit your needs. With cut points, you simply select the length that is either the correct size or larger than you require and trim the end to suit your needs.
24V Driver and heat sink profiles are essential for this tape. Everything you need can be found in the RGB section, This includes remotes and receivers.
| | |
| --- | --- |
| Lamp Type | Long Life LED light source |
| Lamps Included | Yes |
| Width | 10mm |
| Depth/Projection | 2mm |
| Wiring Details | Class 3 - Requires a low voltage supply |
| Driver | No driver or transformer is supplied with this fixture (sold separately) |
I have a room with oak beams....can i stick this tape to run along those?
Yes but do mount the tape in an aluminium heat sink. This disputes heat and ensure a long life from the LEDs.
Why does the remote that goes with these lights have a W button if this strip does not do white? Or is the remote used for just white lights as well?
The remote for RGB and RGBW is the same, it is the receiver that allows for different functionality.
What width/depth do you recommend for the space behind coving to fit this strip into?
This is down to personal preference. The heat sink the tape sits in is 17.1mm wide and 8mm deep and so you would need space for this.
i have granite worktops. each side is 3.4 metres in length. can i stick the led tape to the underside and can i cut to length without affecting the performance? also would i require 2 power sources or can i power 2 from 1 source?
Yes and yes. Trimming to length is easy with scissors and you can run several strips from a suitable capacity power supply. Call us if you need any design help, we'll be happy to help.
Can the tape be supplied with a plug end to plug into standard sockets?
You can wire a plug to the driver if required. This is something your electrician could do for you.
You state that the controller can be switched on and off via a wall switch. What mode does it switch on to. Is it the last used setting or is it a fixed setting? If fixed, can the fixed setting be pre set to the desired setting?
The system will switch on to the last used settings. If that was a still colour it will continue in the same colour, if it was fading between colours it will continue the fading setting.
Does this have a white colour ie normal light setting?
This is just colour changing, and there is no white colour setting.
Hi, can you wire the colour changing led tape lighting direct to a wall light switch to turn them on and off.
Yes this is common practice. To do this you take a supply from an existing wall light and wire this to a 12v power supply. The 12v supply from this goes to the RF controller and your LED strips are plugged into the RF controller.
Availability: Typically dispatched in 2-4 days

We offer free delivery on orders over £50 to most UK Mainland Addresses
Related Products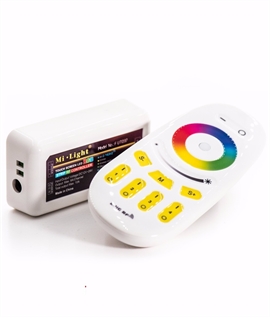 2 Products
£28.48
For Use with RGB Flexible LED Lighting Tape