T5 Ringtube Fluorescent Lamp
2Gx13 Four Pin Base 22, 40 and 55 Watts
Product Ref: 2978
From £16.00

inc VAT
16mm tube circular lamp in a choice of diameters. Designed for high frequency ballasts.
Available in two colour temperatures 3000ºk warm white and 4000ºk neutral white.
Dimensions
22w - Diameter 230mm
40w - Diameter 305mm
55w- Diameter 305mm
2Gx13 four pin base.
22w (1900 lumens), 32w (2200 lumens), 40w (3400 lumens), 55w (4200 lumens)
3000ºk (warm white) and 4000ºk (neutral white)
Part L compliant lamp
Over 10,000 hour lamp
Please note due to the fragility of this particular lamp we are unable to ship these in small quantities.
You can order this lamp in box quantities of 25.
However if you are purchasing a T5 lamp to use with a fitting (which you have purchased from our website) we can ship this easily as it will be packed in with the light and should arrive intact.
| | |
| --- | --- |
| Lamp Type | T5 circular fluorescent |
| Part L Compliant Luminaire | Yes |
| Dimmable? | No |
| Wiring Details | Not applicable |
Do you know if the T5s or T9s can be used with a dimmer switch? I have seen a light with a dimmable ringtube cfl and would like to make one. Any suggestions would be much appreciated.
Fluorescent lamps are dimmable - however to do this the ballast (or control gear) needs to be replaced with a dimmable ballast. These in turn require a specific type of dimmer module using either a digital signal (i.e. Dali) or 1-10v analogue dimmer. These specifics are not something that is often practical in a domestic space and therefore their use is often only found in commercial spaces. There are some free-standing fixtures i.e. floor lamps that have dimmer modules and push-to-make controls but they are not common.
Availability: IN STOCK 2-3 working day dispatch

We offer free delivery on orders over £50 to most UK Mainland Addresses
Related Products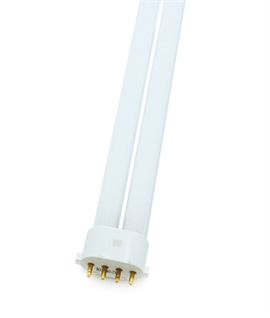 3 Products
£4.10
7 Watt, 9 Watt and 11 Watt