Remote PIR Detector - 110º Sensor
Available in Black or White Finish
Product Ref: 1254
£16.39

inc VAT
Stand alone passive infra-red sensor for indoor or outdoor use. This motion detector works according to passive infra-red technology. IP44 rated and available in either black or white finish. The detector will switch on the connected lights when it registers 'warm movements' within its detecting range and if dark enough.
The built in photocell prevents the detector from working in the daytime.
Illumination time and daylight (Lux) setting is adjustable to suit various locations.
Maximum lighting load 1300w (incandescent) or 300w (fluorescent) Designed for wall mounting complete with fixing screws and rawl plugs.
Stand Alone External PIR 110º Features vertically and axially adjustable head, adjustable lux level, 12 metre range, 110º detection zone, time on adjustable 5 sec - 5 min. Construction ABS casing Standards BS EN 60730-2-7.
| | |
| --- | --- |
| Lamp Type | |
| Part L Compliant Luminaire | No |
| Lamps Included | No |
| Max Wattage | 1300w |
| Width | 95mm |
| Height | 150mm |
| Depth/Projection | 130mm |
| Construction | Plastic - ABS |
| Wiring Details | Class 2 - Double Insulated - Requires no Earth Connection |
| IP Rating | IP44 |
| PDF Document(s) | View PDF |
Does the PIR come with wiring instructions and is there a max distance from the light.
There isn`t really a max distance, As long as it was on the same property then that should be fine.
Any idea the Watts this draws (when lamp is off)
Redundancy power consumption is less than one watt.
to what degree will this move on horizontal plane Regards T L
This fitting would move 180 degrees. It goes all the way back and left to right.
I would like to use this sensor with your pharanze wall light. Would this be suitable. I only want a 6 metre range as the property is close to the road side. Is it possible to adjust?
You could simply tilt the head down so the beams does not reach the highway.
Is there a MINIMUM load requirement for this sensor to work. A customer of mine has 2 outside LED fittings (@ 230v) which need to be switched by a PIR. The total load is only around 4.8 watts. I bought a stand alone PIR but it needs a 60watt minimum load to work so it`s been returned. Will your PIR work with these fittings?
This PIR does not have a minimum required load and should work fine with your clients LED solution.
Availability: IN STOCK 4-6 working day dispatch

We offer free delivery on orders over £50 to most UK Mainland Addresses
Related Products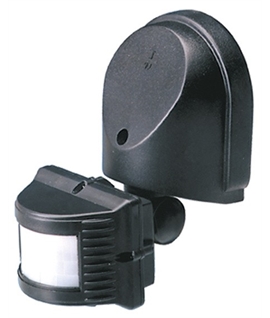 £17.26
IP44 Rated - Perfect for Aiding Security