Slow freight at UK ports is impacting some orders, we will do everything we can to maintain quoted delivery times but there may be some delays. Read More..
Tunable Flexible Linear Strip - Colour Temperature Adjustable Warm to Cool White
Dynamic Colour Adjustment anywhere between 2700°k to 6000°k
Product Ref: 41116
From £12.00

inc VAT
Once you had to pick LED tapes with either a warm, neutral or daylight white colour. That choice is one you no longer have to make because this tape can deliver any colour from soft warm (2700°k) white right through to daylight (6000°k).
Should you care? Possibly, to explain...
When natural daylight floods in through the windows, warm white artificial light look quite yellow and is thought to be unnatural, so the tape can be tuned to provide a daylight white, complementing the natural light.
At sunset, with the sun low in the sky, natural light becomes warm, so the tape can be tuned to become warm too, avoiding the blue harshness of daylight white light.
In the evenings the tape can be tuned to provide a neutral white light which allows the artificial light to be accepted as natural light.
The best thing? You can play with the exact mixture of light to get what works for you manually, or on larger commercial projects the transition can be automated with additional DMX equipment.
The tape offers this ability to morph by closely mounting a warm white and daylight chip close together but on a different circuit. By adjusting the voltage on each circuit a blend of the white light from both chips is achieved.
Sold Per 1000mm Length
Voltage: 24v
Lumens p/m: 1800lm
Temperature Range: 2700°K – 6500°K
Wattage: 18w p/m
IP Rating: IP20
Number of LEDs per 1000mm: 120 LEDs
Can be cut every 100mm
50,000 hours lamp life
24V driver and heat sink profiles are essential for this tape.
Accessories:
Snap connector allows you to go around corners with ease.

Snap connector allows you to join tape together with ease.
3 core CCT cable
Everything you need can be found in the tuneable section. This includes remotes and receivers.
We appreciate integrated lighting with LED strip can become complicated, especially for large installations, if you require any assistance please give us a call.
| | |
| --- | --- |
| Lamp Type | LED Long Life Tape |
| Lumens Per Watt | 100 |
| Part L Compliant Luminaire | Yes |
| Lamps Included | Yes |
| Dimmable? | Yes - when using the specified equipment |
| Width | 10mm |
| Wiring Details | Class 3 - Requires a low voltage supply |
| IP Rating | IP20 |
| Driver | No driver or transformer is supplied with this fixture (sold separately) |
if i order 3 x 1m meter lengths of dynamic colour adjustable led strips does it come in one 3 meter length. Will I need a driver as well as a tunable white controller
Add three 1-metre lengths to your basket and we will send you one 3-metre long piece of LED tape. If any customer specifies their exact needs we will endeavour to supply what is requested. Use the order comments box for any requests. A driver (DC power supply is required in addition to a LED colour controller.
What width is the tape?
9.6w is 8mm and the 19.2w is 10mm.
Availability: Typically dispatched in 4-7 days

We offer free delivery on orders over £50 to most UK Mainland Addresses
Related Products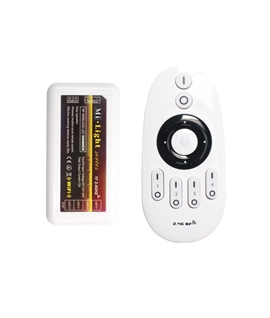 2 Products
£12.00
For use with our Tuneable White Flexible LED Lighting Tape