AR111 EcoPlus Halogen Energy Saving Lamp
Halogen light with lower running costs
Product Ref: 3732
From £4.90

inc VAT
Low voltage halogen reflector lamp with double ended burner and high purity aluminium reflector.
It gives energy saving of up to 40% together with reduced heat and maintenance.
Over double the lamp life of standard AR111 lamps with MTBF of 4,000 hours.
Suitable for a wide range of applications in display, accent lighting and general lighting in retail, museum and everywhere quality of light is essential.
Bright, white halogen quality light (up to 3050K) for decorative and architectural lighting.
Aluminium faceted reflector for a better beam control.
Metal cap over filament to avoid direct glare effects and hot point UV-block to reduce bleaching effect.
Equivalent lamp wattages:
30w gives same light as a incandescent 50w
45/50w gives same light as a incandescent 75w
60w gives same light as a standard 100w
Select Beam angles and wattages required below
Precise lighting
Reduced glare
Many wattages and beam angles
2000 hour average life
Lamp Type
AR111 - 12v Halogen Reflector
Part L Compliant Luminaire
No
Dimmable?
Yes - on standard dimmer
(TRIAC or leading edge)
Width
111mm
Height
57mm
Wiring Details
Not applicable
PDF Document(s)
View PDF

Is this lamp type available in a dimmable LED option?
We have a LED dimmable option available. Scroll down to the bottom of this listing to see its separate listing, Or search "RADLEDAR111"
Availability: IN STOCK 4-6 working day dispatch

We offer free delivery on orders over £50 to most UK Mainland Addresses
Related Products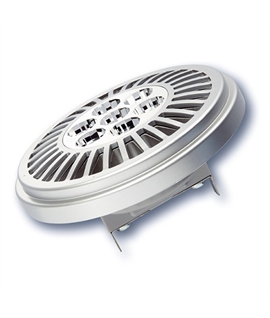 £51.27
Available in 11.5w (75w) 800 Lumens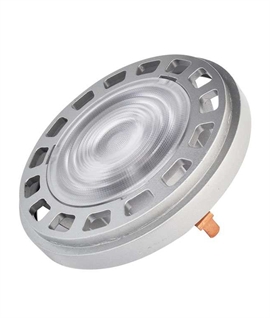 2 Products
£36.83
Neutral or Warm White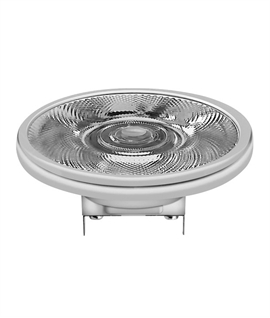 2 Products
£24.76
Available in 15w (75w) 800 Lumens