Bathroom Lighting Ideas
Bare bulbs, dusty pleated shades and cheap glass bulkhead lights should really not be appearing in a modern, clean and stylish bathroom. With a little guidance you can get lighting that looks good and provides the right light for your space. Most of our customers are looking for design advice and we are happy to offer it.
Firstly start with a clean sheet, ignore existing wiring and existing locations. Think about where you would like the light in your bathroom to be and donít have any preconceptions because recessed bathroom downlights can be used in all locations including really wet areas and even within the most powerful shower cubicle.
Once you have thought about lighting your bathroom lighting layout go off and have a look through our categories above each contains design tips and advice on how to get the best lighting for your space.
If you need more help or donít know where to start then read on...
Bathroom Lighting Advice
We suggest that you start by looking at what lighting is present in your bathroom already. Is it bright enough? Does it create shadows? If you apply cosmetics in your bathroom do the results look as good out in daylight?
Think about having more than one light in your bathroom. A single fitting in the centre of the room will give good illumination to the centre of the room but not much else. The bathroom mirror deserves special attention and a wall light either side will provide good illumination of the face. Alternatives include recessed lights above the mirror or a strip of light over the mirror. For best results why not consider a Illuminated Bathroom Mirror or bathroom cabinet with lighting built in.
Tasks like applying make-up, shaving, and styling hair are much harder to accomplish with a poorly lit vanity unit. In this area, good colour-rendering lights are necessary to enable you to see yourself in a natural light while reducing shadows on your face. When light shines only from above or behind, you will see unsightly dark shadows under your eyes and the texture of your skin will be accentuated. Frontal lighting is necessary to reduce both contrast and shadows.
Start by thinking about how much light is required in your bathroom. If you currently have a 100w lamp in situ you may want to use 4 x 50w downlights or 4 x 35w downlights to create similar light levels. You will need recessed fittings because Halogen lamps have a reflector built in and have an intense beam whereas a 100w bulb gives out light in all directions. If you put in too much light into a room you can always lower the wattage of the lamps used.
Dimming your
bathroom lighting
is now an option with a pull-cord dimmer. This will let your bathroom be bright and invigorating in the morning and soft and subdued in the evening.
Bathroom wall lights, typically one on each side of the mirror, provide even lighting for both sides of your face. In addition to lighting for the vanity mirror, good general lighting is of maximum importance. A ceiling fixture is a good idea for general lighting and many modern styles are available allowing your bathroom decor to be as unique and personally yours as any area of your home.
Some care needs to be taken when choosing bathroom lighting as the regulations are strict concerning the type of light you can use.
The following information is a guide to help you understand what light fittings can be placed where in your bathroom. This is not an installation guide and reference should be made to the IEE Wiring Regulations (17th Edition) or contact a qualified electrician.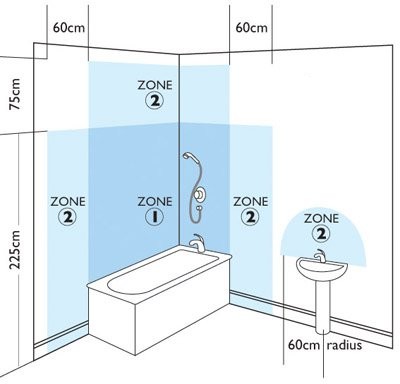 Zone O
is inside the bath or shower itself. Any fitting used in this zone must be low voltage, (12 or 24v) and be rated at least IP67 which is total immersion proof. We are not big fans of lighting in zone 0 as corrosion or leaks is commonplace and troublesome in all but the most expensive IP67+ light fixtures.
Zone 1
is the area above the bath to a height of 2.25m from the floor. In this zone a fixture must be splashproof and it is recommended to use a fitting with a IP number of IP45 or higher.
Zone 2
is an area stretching 0.6m outside the perimeter of the bath and to a height of 2.25m from the floor. In this zone an IP rating of at least IP44 is required. In addition it is good practice to consider the area around a wash basin, within a 60cm radius of any tap to be considered as zone 2.
In addition to the above, if there is a likelihood of water jets being used for cleaning purpose in zones 1and 2 a fitting rated a minimum IP65 must be used. Full details can be found in the latest copy of the IEE wiring regulations. For non-domestic applications, please refer to your electrician.
Note: In the UK any electrical circuits in the bathroom must be protected by a 30mA Residual Current Device (RCD)