Slow freight at UK ports is impacting some orders, we will do everything we can to maintain quoted delivery times but there may be some delays. Read More..
Smart Lighting Sensor For Garden Lights - With Movement Detector
White - IP43 Rated
Product Ref: 1252
£63.00

inc VAT
This Smart Lighting Sensor has 3 superb features that make this incredibly useful when used in combination with exterior and garden lights.
The twilight sensor switches your light on automatically at dusk, the timer then takes over and keeps lights on until late in the evening. The unit also has the function to switch off the light but maintains PIR detection - so late arrivals can still see their way to the door.
Prior to dawn the timer switches the light on again for those who are off to work in the dark.
The unit learns the hours of dawn and dusk and adjusts for longer nights in the winter months.
The unit can be fitted to any or many outdoor lamps up to a maximum of 1000 watts.
It reacts automatically to anyone within its 120 degree angle of coverage up to a range of 10 metres - meaning an impressive area can be covered by this sensor.
Operational between temperatures -20 and +40 degrees.
This item is supplied in white. Black version is discontinued.
Please note the timer is preset and cannot be changed - Twilight mode is activated for 2 hours after dusk, afterwards PIR mode is automatically activated.
| | |
| --- | --- |
| Lamp Type | |
| Max Wattage | 1000w |
| Width | 65mm |
| Height | 120mm |
| Depth/Projection | 75mm |
| Wiring Details | Class 2 - Double Insulated - Requires no Earth Connection |
| IP Rating | IP43 |
Can the device be controlled through an app on a smart phone, allowing you to control how long the lights stay on for after dusk before they turn off and the PIR kicks in? And also if you do not want the morning routine, can that be switched off?
This cannot be controlled via an app, the twilight feature cannot be disabled.
How long does the light stay on after dusk and before dawn in PIR mode?
The PIR detector detects movement and will keep the connected lights on for 10 minutes.
Will this work if I mount above my garage up an over doors ( detection down a drive) also can you adjust the Tim the lights are permanently on after dusk and before dawn
This can be installed above your garage doors. The time cannot be adjusted. It is designed to come on at dawn and go off at dusk.
What are the dimensions of the unit? Can you adjust the detection range to less than 10 metres or is it fixed
The detection range is up to 10 metres. The dimensions are - Width/Diameter: 70mm x Height: 120mm x Depth/Projection : 70mm.
what is the predetermined time that the sensor will switch on for at dusk before the pir takes over
In the morning and evening when it starts to get to dusk, the sensor will switch on and stay on for around 2 hours, then the PIR takes over.
Where should this unit be fitted relative to an external lantern? If light from the lantern falls onto the unit will this interfere with its dusk/dawn sensor?
This sensor will be effected by light from any surrounding lights. It should be positioned out of direct light from any wall lights.
re Nightwatchman Twillight Sensor, Ref: HRDSENSOR, is there a minimum load required and will it operate all types of lamp inc. CFLs and LEDs?
No minimum load is required on this product. The relay operated micro switch will operate even if nothing is connected.
Can this sensor run a number of lights that run along a pathway? Do the lights all need to be on one circuit?
The sensor switch can operate a number of lights. The supply to all lights needs to be switched by the sensor.
Can the light level be set such that at dusk the light comes on at a constant low level, only switching on full when the movement sensor is activated?
As far as we are aware this system is only available as a built-in option in some exterior light fittings. We currently do not offer anything that incorporates this system.
Can the sensors be mounted in parallel?
No this is a standalone unit and as such does not work correctly when installed with other sensors on the circuit.
This product is currently unavailable
We offer free delivery on orders over £50 to most UK Mainland Addresses
This product is currently unavailable
Related Products
£19.29
Operates Lights at Night For a Timed Period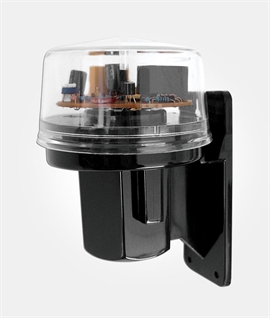 2 Products
£9.50
Two Versions
£17.98
With Easily Resettable Light Sensor