We're sorry this product is currently unavailable
Please visit these categories for similar items or see the related products below.
Bulbs, Lamps and Accessories > Bulbs & Lamps > Low Voltage Lamps
Alternatively contact us with your specific needs and we will endeavour to assist you in your search
MR16 4.5w LED 12v Lamp
Uses 4.5w of Energy Gives 20w of Light
Product Ref: 1047
£4.90

inc VAT
Excellent alternative to 20w halogen MR16 (12v) lamps with extremely long life and unrivalled light quality.
Great for high to reach areas where maintenance cost can be high.
Great replacement for lamp used for long hours every day.
Simple retrofit, plugs into most standard 12v downlights, spotlights and track lights.
High output intense light comes from the 3 x 1.3w Philips LEDs in this lamp. The lamp beam angle is 24º.
No heat (infra-red) and no UV (ultraviolet) in the light beam, and very little heat at the lamp.
Unlike fluorescent lamps there`s no mercury making it easier to lower your carbon footprint with a limited life cycle impact.
Same lamp cap as a MR16 lamp. Same size as a standard MR16 lamp.
Can be retrofitted onto standard 12v MR16 installations using existing power supply HOWEVER you should check the minimum load on the existing transformer (typically 20w on a 60va transformer) and share transformers between lamps to meet the required minimum loads. This lamp is also dimmable if your installation meets the minimum load.
Long, long lamp life of 40,000 hours.
Lamp Type
MR16 - 12v Halogen Reflector
Part L Compliant Luminaire
No
Dimmable?
Yes - on standard dimmer
(TRIAC or leading edge)
Width
50mm
Height
40mm
Wiring Details
Class 3 - Requires a low voltage supply
Kelvin
2700°K - Soft Warm White
Be the first to ask a question about this product!
This product is currently unavailable
We offer free delivery on orders over £50 to most UK Mainland Addresses
This product is currently unavailable
Related Products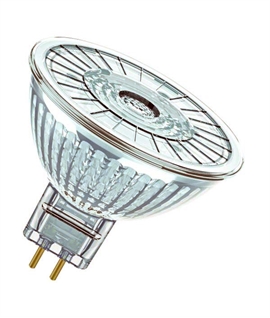 2 Products
£14.00
36º Beam Angle 350-365 Lumens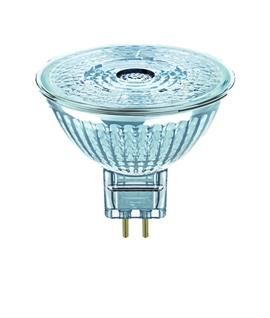 £6.00
36º Beam Angle and 350 Lumens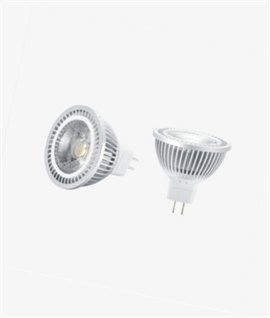 2 Products
£13.76
Available in Warm or Cool White