GX53 Energy Saving Disc Lamp
Product Ref: 1040
£12.58

inc VAT
The GX53 lamp is a relatively new energy efficient lamp with built in electronic flicker-free control gear. The lamp is an ultra-low profile package and benefits from a silicon diffuser to give a softer more even light. Low heat makes this lamp suitable for under cabinet use.
Push and twist GX53 lamp cap - no tools required to change lamp.
Click here for the LED version featuring improved energy saving and higher light output.
| | |
| --- | --- |
| Lamp Type | GX53 Flat Mains Lamp |
| Part L Compliant Luminaire | No |
| Dimmable? | No |
| Width | 75mm |
| Depth/Projection | 25mm |
| Wiring Details | Not applicable |
I currently have 9W 2700K lamps running in up/down lights ref NX21481134. Is it possible to simply replace them with 13W 4000k lamps? Also, is the cool white light closer to an LED light colouring?
Your existing lamps are warm white - 2700ºk is the same as a tungsten lamp. 4000ºk is a cool white colour and could be described as being a crisp white colour without the blue associated with daylight lamps. LEDs come in all colour temperatures so can`t be regarded as a colour to match.
Can this lamp be placed in a circuit activated by PIR?
This lamp will work on a PIR circuit, It needs to be somewhere where there is heavy traffic though. So the PIR is working a lot.
Can I use the 13w GX53 with a dimmer and, if so, are there any special requirements for the dimmer
The GX53 lamp can not be dimmed I`m afraid.
What voltage is this lamp and does it require a lamp holder?
This is a mains voltage lamp and will require a lighting fixture (with appropriate lamp holder) to power it.
Can I use a 13w GX53 in a TS3863cc extending wall lamp in place of 9w GX53?
Yes, although the 13W GX53 lamp is deeper than the 9W and so is going to stand out further.
Availability: IN STOCK 5-7 day delivery from European warehouse

We offer free delivery on orders over £50 to most UK Mainland Addresses
Related Products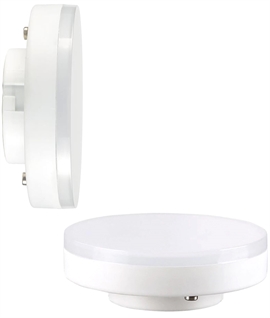 2 Products
£9.98
Available in Cool White or Warm White