Easy Install Linkable Linear LED Battens
Can also be Suspended - 2 Sizes
Product Ref: 7297
From £32.34

inc VAT
Have you ever wondered why larger lighting systems have not been made with a simple linking method? Us too!
Here we have a stylish, high output LED alternative to fluorescent fixtures that have through wiring that enables modules to be quickly linked together in-situ. With a long life LED array designed to 25,000 hours these fittings require no maintenance and make significant energy savings.
Really easy installation with simple secure mounting clips and the ability to link power between fittings with the push-fit link cables or link coupler.
Fixture sizes:
10w
850 lumens 4000°k neutral white
Length: 280mm Height: 32mm Depth:75mm.
18w
18W - 1400 lumens 4000°k neutral white
Length: 580mm Height: 32mm Depth:75mm.
Each luminaire is supplied with:
1 x short power lead (500mm)
1 x 200mm link flex (allowing you to create corners and bends)
1 x close coupler for a seamless line of light.
| | |
| --- | --- |
| Lamp Type | Long Life LED light source |
| Part L Compliant Luminaire | Yes |
| Lamps Included | Yes |
| Dimmable? | No |
| Width | 75mm |
| Depth/Projection | 32mm |
| Construction | Aluminium and acrylic |
| Wiring Details | Class 2 - Double Insulated - Requires no Earth Connection |
| IP Rating | IP40 |
| Kelvin | 4000°K - Neutral White |
| Driver | Includes integral driver/transformer suitable for 230 - 240v supply |
Is there a motion sensor module for this lamp?
There are no motion sensors available for this fitting.
I would like to know the physical size of the linear battens, the width and depth and do they all have through wiring capability because one of your pictures shows a blank end cap.
Each size of the battens is listed on the page, Each batten allows you to wire into the end.
I`m interested in buying a class 2, florescent light. I`ve so far found them impossible to find. So you can imagine the joy I`ve had finding your site. Can you however explain if this is class 2, why there is a cable with an earth in the picture?. As its confused me a little.
This fitting is class 2, it has an earth cable in case you would like to use this but it is not required.
Availability: IN STOCK immediate dispatch

We offer free delivery on orders over £50 to most UK Mainland Addresses
Related Products
9 Products
£13.80
Available in Six Lengths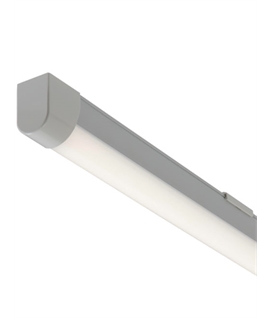 3 Products
£14.98
Energy Saving LED Replacement to T8 Tubes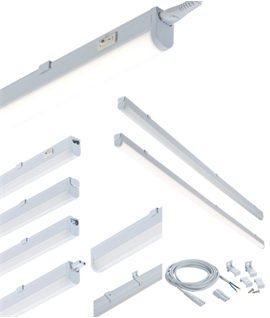 15 Products
£10.56
Offered in Warm White or Neutral White