Home
New Arrivals
Oh no, Get me a Plaster & Quickly!!!
MattKingKenny - 28 October 2014 -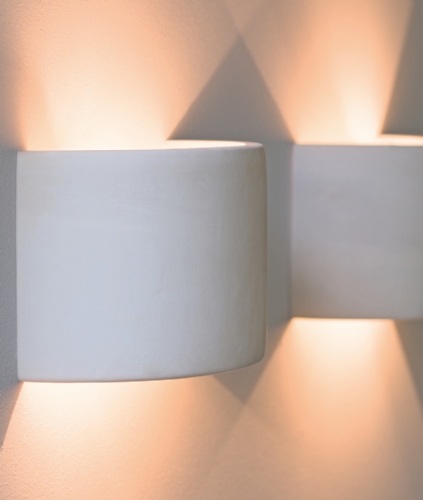 Plaster Lighting, extremely modern and very appealling on the eye.
Over the past couple of months, we have noticed an explosive demand on such particulars, and lets face it, we can see why with plaster creating a unique finish within any interior living area or space.
Last year, i renovated my living room with four plaster up/down wall lights with 6000º GU10 LED lamps, and i have never looked back. Plaster lighting shows great authenticity, with sleek and stylish designs sitting recessed to any wall.
The biggest thing to remember is that this isn`t your standard chalky wall plaster, these are extremely tough products with a silky smooth finish similar to a ceramic.
Stick them up bare and you won`t be breaking any rules but a splash of paint brings on a whole new life! Painted the same shade as your wall these have a seamless transition that only a master plaster-er-er... could dream of.
Tags: Plaster Wall Light; Modern Plaster Wall Light; Plaster Lighting
Filament Bulbs - Colourful Retro Design
E27 Cap with a Squirrel Cage Filament
From £6.96

Advanced Interchangeable LED Downlights - Silver
you select the output, beam angle and bezel
From £41.46

Battery Operated Round LED Vanity Mirror
One Sided Magnfication Mirror
Our Price £48.00

Extending Arm Illuminated Shaving Mirror
Ideal also for make-up or contact lens wearers
Our Price £43.50

Lighting Out Of The Box: Plaster Wall Light
Up and Down Light from Two Lamps
Our Price £54.00

Curved Plaster Wall Light W:360mm
Natural White Finish
Our Price £54.00

Metal Layered Pendant - Dia 420mm
Eleven Colour Options!!!
From £205.00

Tilee Wall Light by Flos - White
Polished chrome with blown glass diffuser
RRP £98.80
Our Price £83.30

Tube LED Chromated Glass Pendant
Choose Gold, Chrome or Copper Finish
From £184.00

Single Chromated Glass Pendant
Choose Gold, Chrome or Copper Finish
From £211.99

Pear Drop 5 Light Pendant
White, Green or Purple Colour
From £140.00

Decorative Downlight with Crystals
Available in four finishes
From £459.00

Round Decorative Downlight
Available in four finishes
From £135.00

Square Decorative Downlight
Available in four finishes
From £140.00

Curved Murano Glass & Chrome Wall Light
Red, Black or White Glass
From £285.00

Curved Murano Glass & Chrome Pendant
Red, Black or White Glass 700mm or 900mm
From £905.00

Galvanised Bulkhead Outdoor Light
15 Year Anti-Corrosion Guarantee
Our Price £48.99

Rustic Caged Light - 3 Lamps
Ideal for barns or large rooms
Our Price £414.00

Galvanised LED Exterior Down Light
15 Year Anti-Corrosion Guarantee
Our Price £44.50

Ironwork Spiral Light - 3 or 6 Light
Large 14 arm & wall light also available
From £294.00

Rustic Brown Wall Light & Alabaster Shade
Single or Double Wall Light Option
From £138.00