Home
New Arrivals
What number are you
OCS - 31 July 2014 -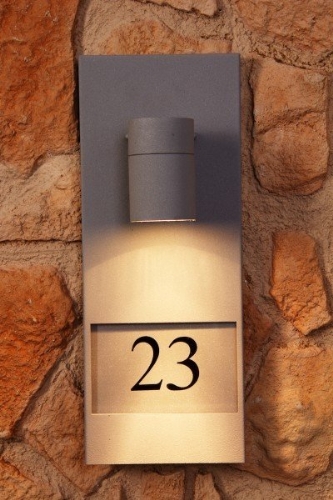 How many times has a friend rang you for directions to your dinner party, garden party or drinks night only to realise that, unbeknownst to them they`re right outside your house. Now, during a particularly large event, how many people rang you that night with the same problem?


Well here`s the best solution we can find. Illuminated house number plates, products that are extremely functional yet uniquely attractive.


Long gone are the days of brass numbers, hanging wonkily from the brickwork. These are stylish and oh so classy, with a sleek light to illuminate your house numbers, while providing a guide to your front door, plus of course the house numbers themselves, set into a recessed pocket of brushed steel plate.


These really are the only way to go if you want a sophisticated way of displaying your houses signature.
Filament Bulbs - Colourful Retro Design
E27 Cap with a Squirrel Cage Filament
From £6.96

Advanced Interchangeable LED Downlights - Silver
you select the output, beam angle and bezel
From £41.46

Battery Operated Round LED Vanity Mirror
One Sided Magnfication Mirror
Our Price £48.00

Extending Arm Illuminated Shaving Mirror
Ideal for make-up too!
Our Price £43.50

Lighting Out Of The Box: Plaster Wall Light
Up and down light from two lamps
Our Price £54.00

Curved Plaster Wall Light
Natural white finish
Our Price £54.00

Sky Blue Handblown Glass Shade Pendant
Loads of colour options!
From £143.00

Clear Handblown Glass Shade Pendant
Loads of colour options!
From £143.00

LV Tension Wire Ceiling Rods 200mm - Pack of 2
Can also be used to change direction
RRP £23.89
Our Price £19.55

Super Bright Round LED Plinth Lights
Pack of 3, supports up to 6 lights.
From £19.89

GU10 7.5w 2700°K Osram Dimmable LED - 380 Lumen
A dimmable LED equivalent to a 50w halogen
RRP £16.75
Our Price £13.99

Satin Nickel Counterbalance Light with Shade
Fabric Cream Shade
Our Price £550.00

Chrome & Square Glass Wall Light
Semi-Flush & Large Pendant Also Available
Our Price £102.50

Long Drop 25 Light Glass & Chrome Pendant
Wall Light & Semi-Flush Also Available
Our Price £1,378.90

Semi-Flush Glass & Chrome Light
Long Drop & Wall Light Also Available
Our Price £595.00

Tiered Chrome & Glass Wall Light
Large Pendant Also Available
Our Price £165.00

Large 5 Tier Chrome & Glass Pendant
Wall Light Also Available
Our Price £515.00

Telescope Base & Shaded Floor Lamp
Wood & Chrome Detail with Black Shade
Our Price £289.00

Glass Retro 5 Light Cascade Pendant
White or Black Glass
From £465.00

Chrome & White Shade Wall Light
Two Sizes of Pendants Also Available
Our Price £298.00

Large White Fabric Shade Chrome Pendant
Two Sizes & Wall Light Available
From £730.00