Home
New Arrivals
Welcome to the house of fun
OCS - 3 March 2015 -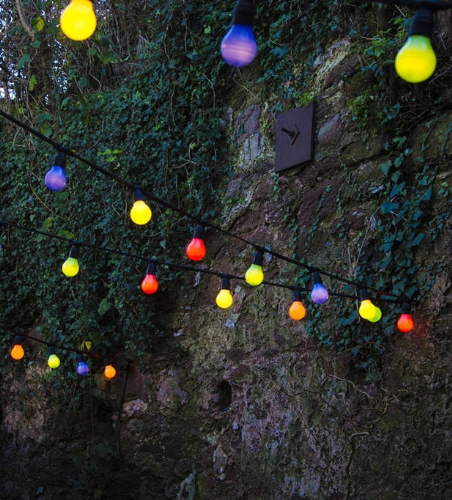 Slowly those short, dark days are drawing out and we`re starting to think of stepping outdoors again. During the winter it`s easy to let the garden go and we love launching straight back into it in the spring to make it a beautiful place ready for summer.

We`ve recently reworked our festoon lighting section to give you the perfect excuse to open up your gardens and fight back the cold. Reclaim your outdoor spaces and create a warm, fuzzy feeling with colourful bulbs and festoon lighting.

In the past our festoon lights have proven very popular, we`ve seen them in a vast array of environments, from bars and pub gardens to restaurants and domestic gardens.

So along with our standard festoons now being back in stock we`ve gone one step further. With a view to always improving our offerings we`ve expanded our range to include a professional grade festoon kit that is completely customisable to your needs.

The key is in the detail with these, they have rubber bulb holder covers to create a seamless connection between bulb and holder.

This is teamed up with screw mounting holes either side of each lamp so installation couldn`t be easier and offers a permanently secure grounding.

And the good news is as the evenings get longer you`ll have even more time to enjoy the outdoors.
Plain Plaster Ceiling Domes - Edge Lit
Clever in-the-ceiling plaster design!
From £365.00

Exterior LED Rope Light
5 metres long and linkable to 50m !
Our Price £35.95

Sculptured Plaster Ceiling Domes - Edge Lit
Clever in-the-ceiling plaster design!
From £475.00

Filament Bulbs - Colourful Retro Design
E27 Cap with a Squirrel Cage Filament
From £6.96

Advanced Interchangeable LED Downlights - Silver
you select the output, beam angle and bezel
From £41.46

Festoon Party Lights - 10 Lights
Pick your lamps to suit your needs!
From £39.98

Extending Arm Illuminated Shaving Mirror
Ideal also for make-up or contact lens wearers
Our Price £43.50

Lighting Out Of The Box: Plaster Wall Light
Up and Down Light from Two Lamps
Our Price £54.00

Curved Plaster Wall Light W:360mm
Natural White Finish
Our Price £54.00

Pendant Light with Corrugated Detailing
Three Diameters Available
From £150.00

Flush Light with Corrugated Detailing
Either 460mm or 540mm Diameter
From £235.00

LED White Metal Retro Pendant
Energy Saving & Funky Design
Our Price £525.00

Recessed Plaster Wallwash Lighting
Invisible illumination for pelmets and step walls
From £320.00

Recessed Frame Lighting Profile
Invisible illumination for alcoves and step walls
From £285.20

120° Crossover - Micro Blade 50
Suitable for mounting in walls or ceilings
Our Price £450.00

90° Crossover - Micro Blade 50
Suitable for mounting in walls or ceilings
Our Price £450.00

Modern Industrial Styled Lantern
Corrosion and rust resistant
Our Price £205.00

High Output LED Light Engine - 7w or 13w
The heart of component lighting system
From £5.80

Modern Curvy Pill Wall Light
With funky translucent glass interior
From £148.00

Modern Curvy Wall Lantern
With funky translucent glass interior
From £160.00

Bronze Caged Drop Pendant
Urban Design - Steam Punk Style
Our Price £114.00