Home
New Arrivals
Ceramic lighting - six new matt colours!
Lily - 26 November 2013 -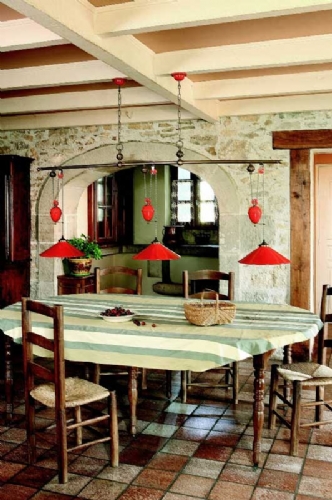 The ceramic lighting range continues to be as popular as ever and, with five new matt colours, they are now even more exciting! The new colours are grey, white, brown, red and blue - all in a matt finish. With these new colour choices it makes an astounding 29 options from which to choose from!
These lights look fantastic when installed and, despite being rustic and traditional in styling, they look good in a variety of homes and locations - even contemporary modern spaces. Many customers choose to mix and match lights within the range, ultimately the shades are the same on all fittings with two size options, either 260mm or 330mm. Choose from brass or chrome and brass and you`re half way to your ideal lighting! Single, double or triple light, rise or fall or fixed. The main problem will be choosing just one of the fantastic colour options, but then again why not have three different shade colours on one triple pendant?!
Yes, it`s hard to make a decision but hopefully with our listings and the sales teams advice you`ll find a light that is perfect for your home.
Tags: ceramic lighting, rise and fall lighting, pendants with ceramic shades, dining room lights, kitchen island lights
LED Jogg - Twisted Chandelier For Large Spaces
30, 40 and 60 Light Versions
From £1,023.12

Uber Cool LED Entrance Light
Smaller than most and very stylish!
Our Price £132.00

LED Recessed Uplighter - Blue
Mains LED fixture with star effect
Our Price £27.50

6 Light Tension Wire Kit - Blue Lamps
Easy out of the box light kit
From £150.00

Polished Aluminum Downlight
Mains, 12v and LED lamp options also available
RRP £14.80
From £4.80

Wave Pendant
300mm or 420mm diameter
From £24.00

Knot Pendant White
Complete with suspension kit
Our Price £19.00

Battery Operated Round LED Vanity Mirror
GREAT FOR A CHRISTMAS PRESENT!!!
Our Price £48.00

Triple Mains Halogen Spotlight
Chrome or gunmetal finish
RRP £49.99
From £15.00

Extending Arm Illuminated Shaving Mirror
Ideal for make-up too!
Our Price £43.50

Four Light Mains Spotlight - safe for bathrooms
IP44 Rated for bathroom zones 2 & 3
Our Price £36.00

Pikant Double Glass Pendants by Belid
Two Diameters 220mm or 280mm
From £125.00

Jogg - Twisted Chandelier For Large Spaces
30, 40 and 60 Light Versions
From £895.00

Polished Chrome and Striped Glass 6 Light Bar
With adjustable heads and arms
Our Price £114.24

Polished Chrome and Striped Glass 4 Light Bar
With adjustable heads
Our Price £63.36

Polished Chrome with Striped Glass Wall Light
Adjustable head and switched
Our Price £24.00

Vaned Low Glare Wall Light with PIR
Black or Galvanised Finish
From £71.88

Exterior Up & Down Wall Light with PIR
Black or Aluminium Finish
From £67.00

Exterior Aluminium Down Light with PIR
Also available in black finish
Our Price £60.00

Exterior Black Down Light with PIR
Also available in aluminium finish
Our Price £60.00

Dish Exterior Bollard Light
Four Finishes Available
From £127.00